What is Content Marketing and Why Does it Matter in Real Estate?
Did you know that the average person today scrolls a further distance on their smartphones than they walk in a day?!
Yup, that's right! We're scrolling through over a mile of content on our phones, per day!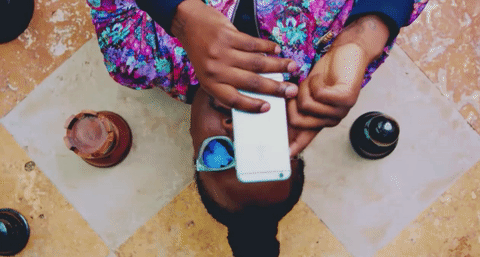 Over the past few years, we've seen a very dramatic shift in where consumers are looking for information. Actually, research shows that we're no longer even searching. Instead, we're waiting for that information to find us.
Need proof? Lets throw it back to a morning commute in the 90's.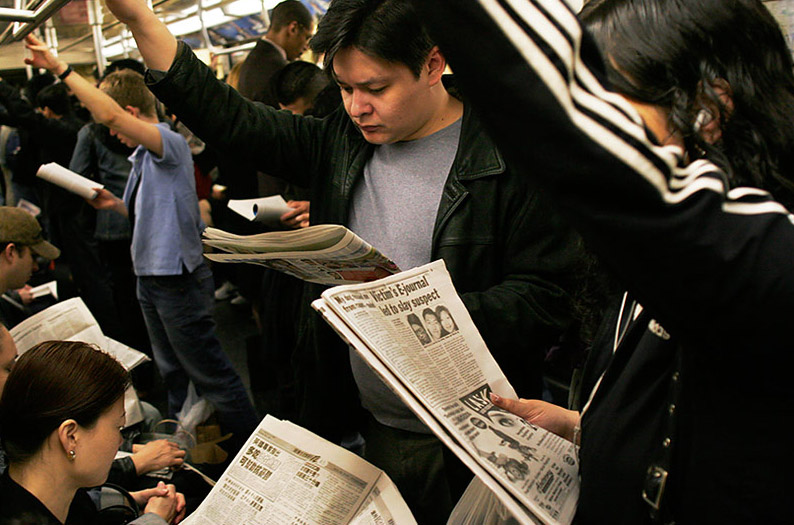 In the above photo, you can see a group of morning commuters on a train. Almost every single person is reading through a newspaper, actively searching for information.
Fast forward to 2019…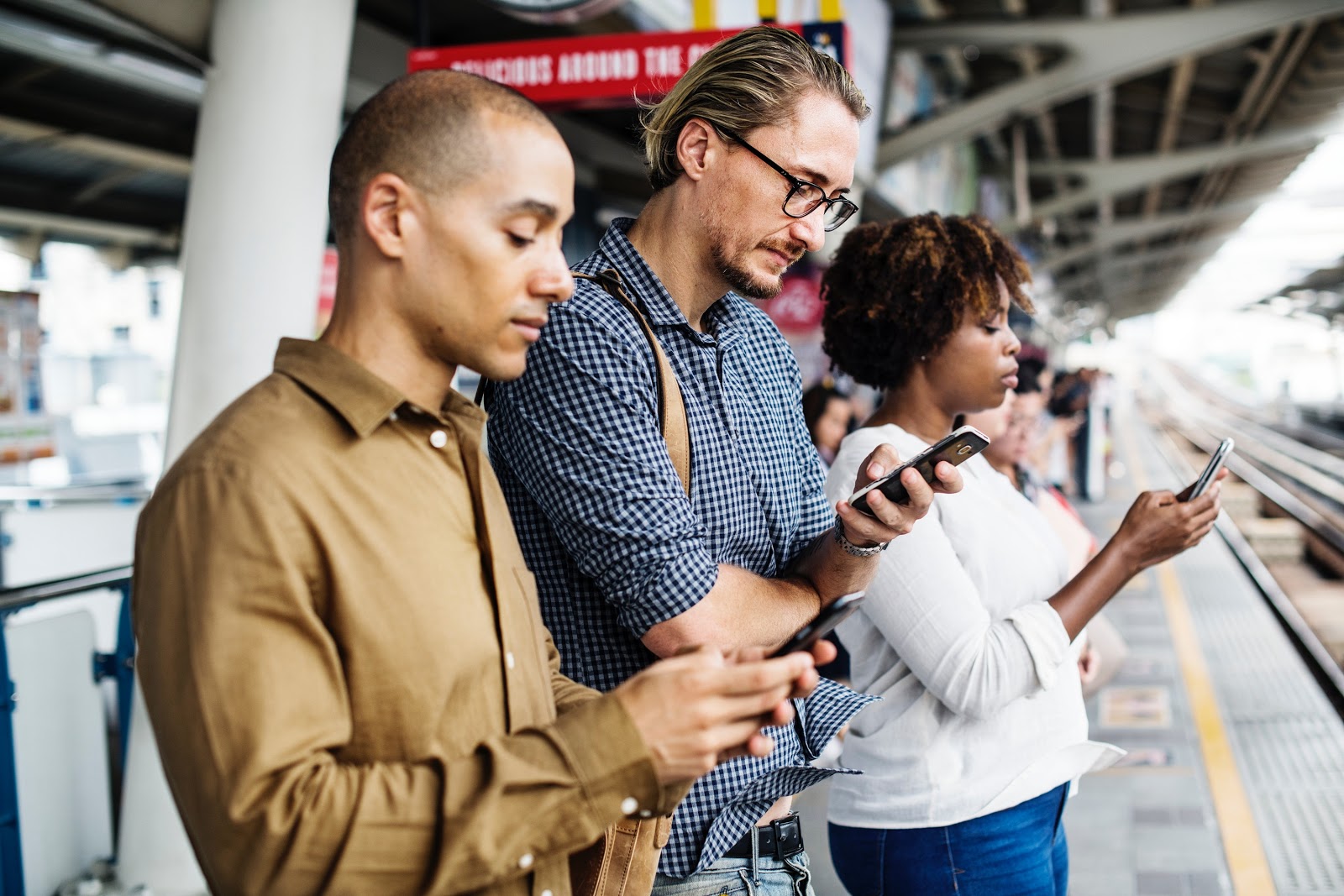 Today, this is the more likely scene. Almost everyone is looking down, eyes glued to their smartphones. Talk about a neck ache…
The important take away here? Real estate agents need to be marketing their businesses where their target market's attention already is.
And no, that doesn't mean sending postcards or splurging to plaster your face on the neighborhood park bench- Do you think anyone in the above photo even noticed that billboard across the train tracks?
We know what you're thinking …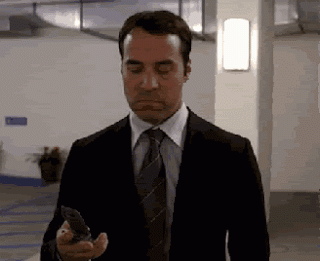 But don't throw away your phone just yet! There's some good news, and we're here to help!
With the right strategy and tools, this marketing shift can work in your favor. It's more affordable and accessible to small business owners, such as real estate agents.
That's where content marketing comes in.
So, what is this "content marketing" we speak of?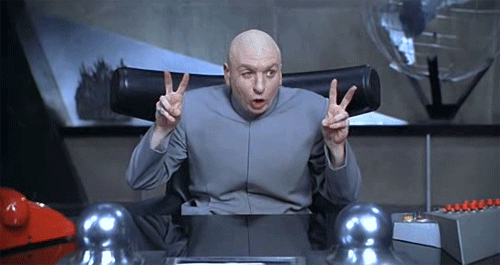 Put in simpler terms, content marketing is a marketing approach that involves creating and sharing interesting, educational or entertaining materials (such as photos, videos, and blog posts) online to stimulate interest in a product, service or brand, without explicit promotion.
Think about it- if you consistently provide free value to your audience, they will, in turn, associate this value with your business, meaning they're more likely to trust you and want to work with you.
The golden rule of content marketing: "show don't tell."
Instead of outwardly pitching and promoting your real estate services, show prospects why you're the right agent for the job. Showcase your real estate expertise online by sharing relevant and authentic information with your network to build trust and credibility.
Sharing valuable content will establish you as a trusted authority in the real estate industry.
As demonstrated above, consumers, are spending a large part of their days scrolling through content on their smartphones. In fact, the average person spends over 5 hours each day on their phones, 92% of that time within social apps like Facebook, Twitter, Instagram, and LinkedIn.
So, why not inject your valuable real estate related content into these apps, where your target market already is?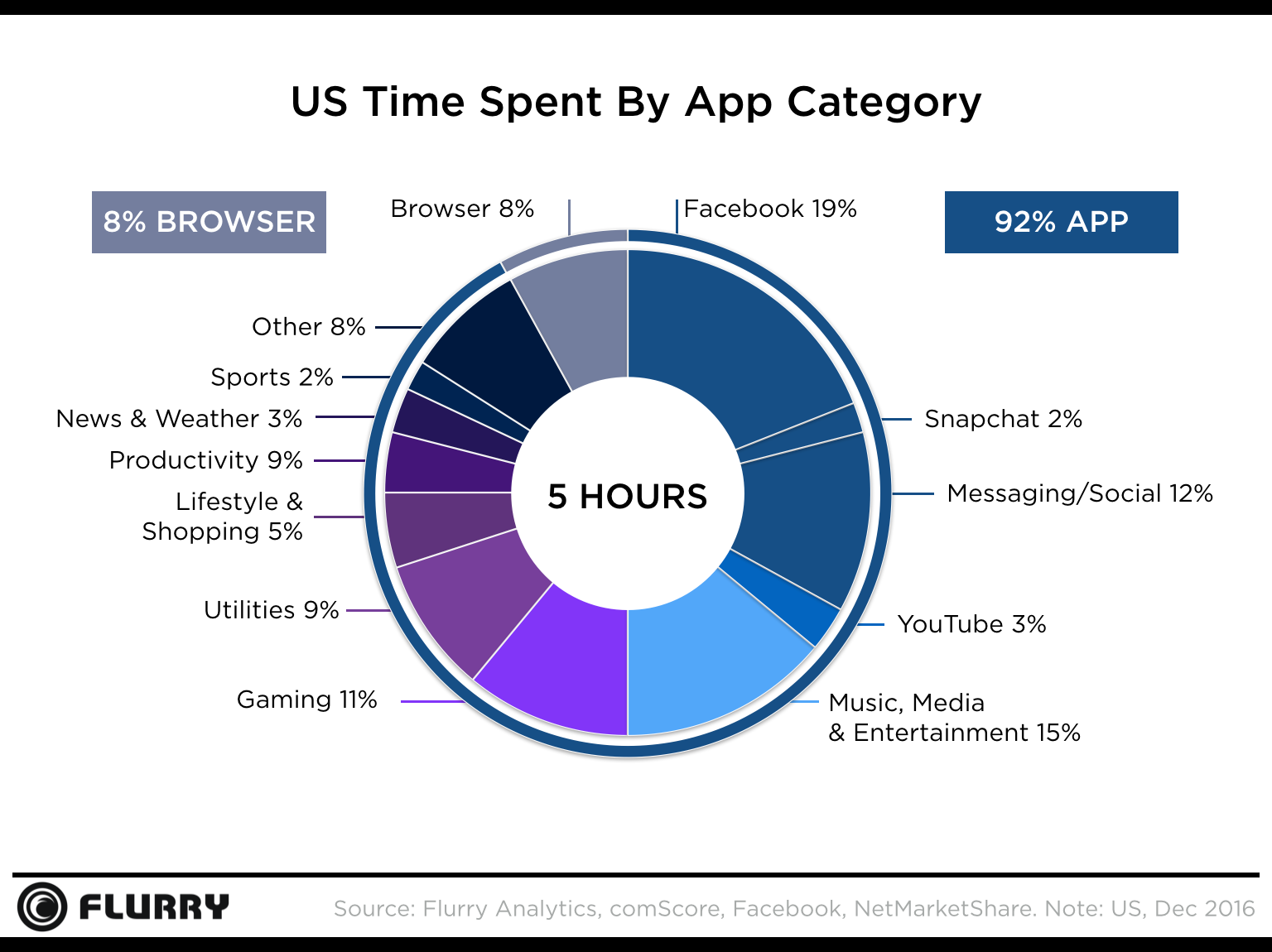 Source: Flurry Analytics
According to NAR, over 50% of home buyers will find the home they purchase online. In the growing sea of real estate agents, effective content marketing will help you stand out.
Stop the scroll with eye-catching content.
As consumers aimlessly scroll through their social media feeds, they're waiting for something eye-catching and interesting to make them stop the scroll. To catch their attention, you need to share entertaining and fun content to stand out from the crowd.
Let's take a look at an example.
Agent Christina Hogan recently shared her video business card on Facebook. Christina was looking for a new fun way to market her business, instead of handing out traditional paper cards.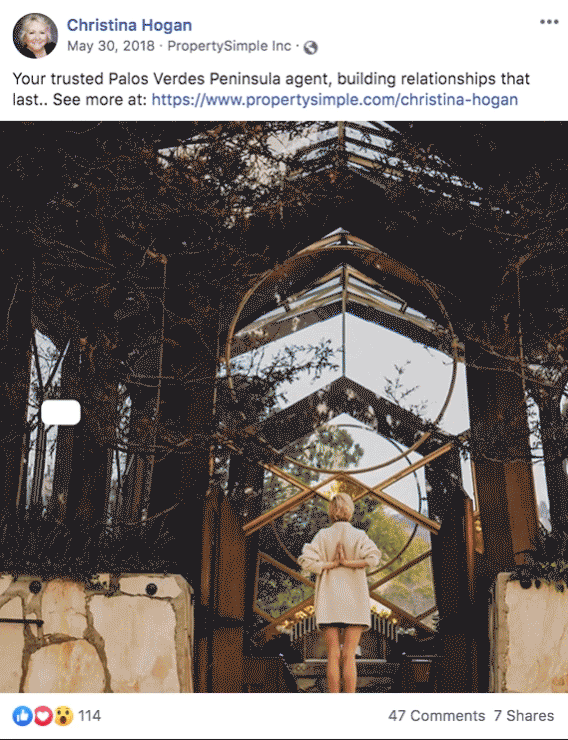 Her post created quite the buzz! Her video was viewed over 1K times, liked over 100 times, shared 7 times and received a TON of comments! Take a look: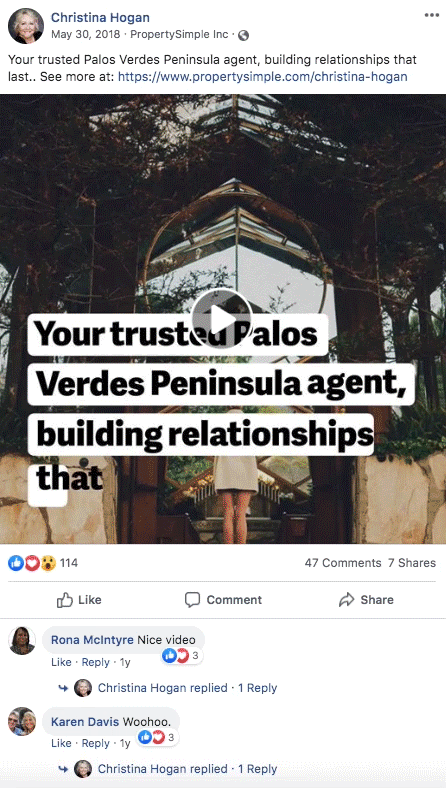 Christina's Facebook video post is a great example of how you can generate a ton of interest in your business by sharing fun and engaging content with your social network. Share varied content and mix up your social media posts to really keep your audience interested and coming back for more.

Consistency is key.
In order to attract new business and leverage your network to generate leads, you'll want to be consistently posting to social media. Continually putting out great content will keep you top of mind with your network and show them you're a reliable source.
The more valuable content you share, the more your audience will begin to recognize your posts. This awareness will build trust and loyalty for your business, drawing in new prospects and starting conversations.
It's all about the follow-up.
If a simple reply on social media could mean making or missing a sale, would you take the time to do so?
We're here to tell you that a short response can make all the difference.
Just look at agent Jeff Fisher! Jeff grew his real estate business from $1M to $10M in just 2 years after embracing the power of content marketing and social media follow up. If you look at Jeff's social media profiles, you'll see that he responds to each and every comment he receives on the content he shares.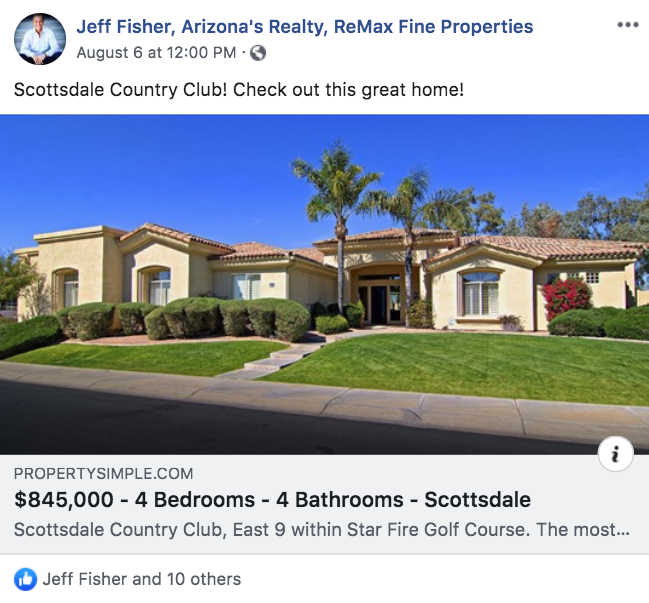 Jeff uses PropertySimple's Social CRM to keep track of his social media contacts and make sure he never misses out on an opportunity.

Along with posting valuable content consistently, you'll want to respond, reply and follow up with each and every interaction you receive on your posts. If someone is starting a conversation with you, it's your job to keep the convo flowing. Following up and being active on social media will help you build and nurture relationships with your network.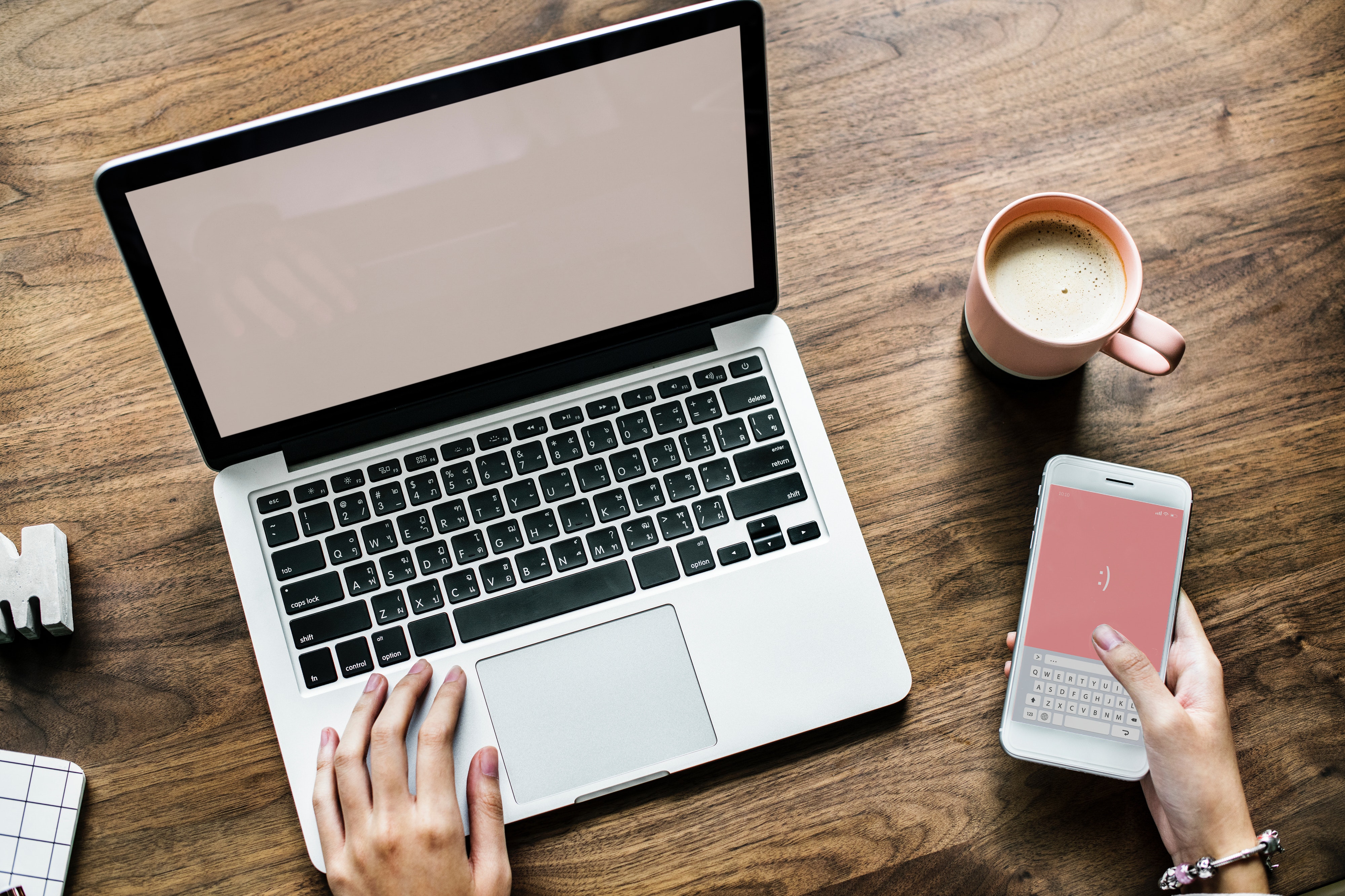 Content marketing is a win-win for both consumers and marketers- it provides free value to those who need it while building customer trust and loyalty for the brand sharing the information.
If you're not already using the content marketing strategy to grow your real estate business, you should be. Neglecting to do so is far riskier than giving it a try.