The Newest Tool to Modernize Real Estate: Property Collections
Collaborate with current clients, co-market any listing in the country and show off your market knowledge, all in one place.
It's no secret that the home-buying process can be extremely stressful for buyers. That's why they have you! As their real estate agent, you're always looking for ways to better your clients' experience. It's your job to make sure the process goes as smoothly as possible.
And just as you always have your client's best interest in mind, we're here to think of yours. At PropertySimple we're always looking for ways to make your life, as an agent, easier.
That's why we created Collections- a fun, visual and interactive way to shop for homes online. Collections allow you to improve client-agent communication, build an impressive portfolio of real estate listings and market your business on social media. They make the home-buying process more enjoyable, for all parties involved.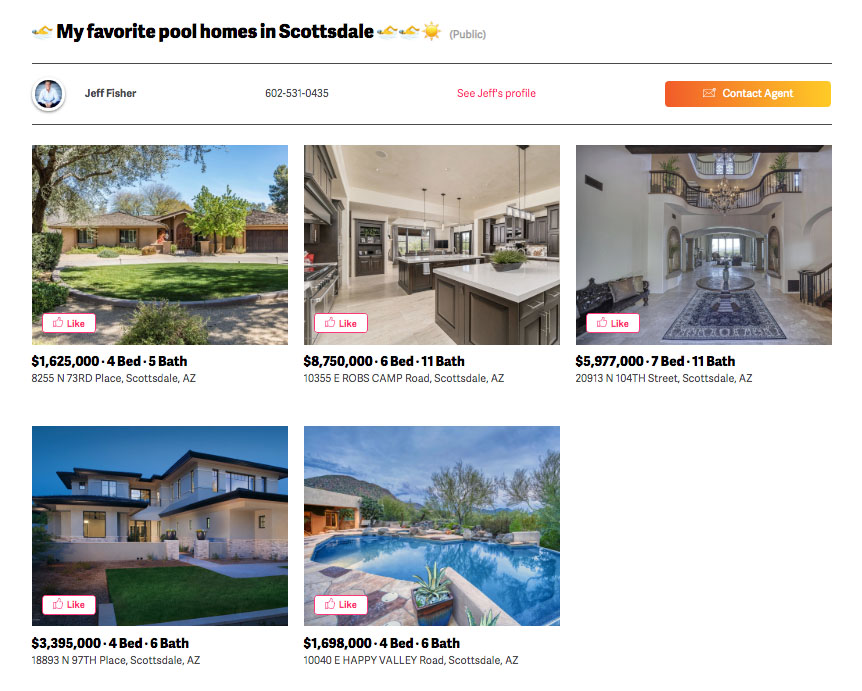 Collections take the hassle out of home-buying.
Instead of switching between a ton of tabs and sorting through lists of links, Collections allow you to keep track of properties and collaborate with clients all within one simple platform. Think of Collections like wishlists when shopping for homes- they allow you to group together properties based on a unique set of criteria like interests, amenities or price-points.
Let's take a look at an example by Scottsdale real estate agent, Jeff Fisher.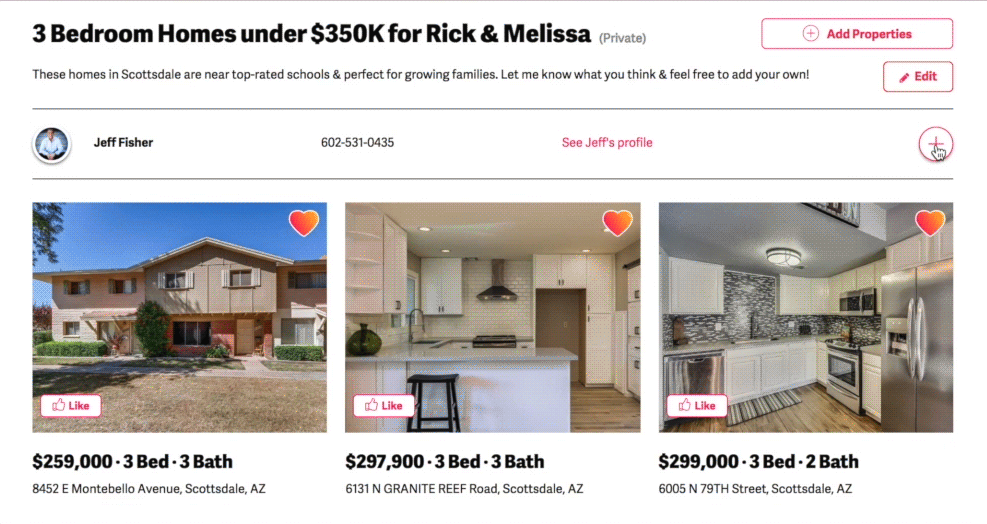 In the above Collection, Jeff has grouped together listings to fit the specific needs of his clients, Rick and Melissa. The couple is looking for a three bedroom home in the Scottsdale area, near the neighborhood's top schools. Their budget is $350K.
Jeff added some great options for them, based on his knowledge of the area. He even invited Rick and Melissa as collaborators to the Collection so that they can "Like" the listings added by Jeff, or go ahead and add their own.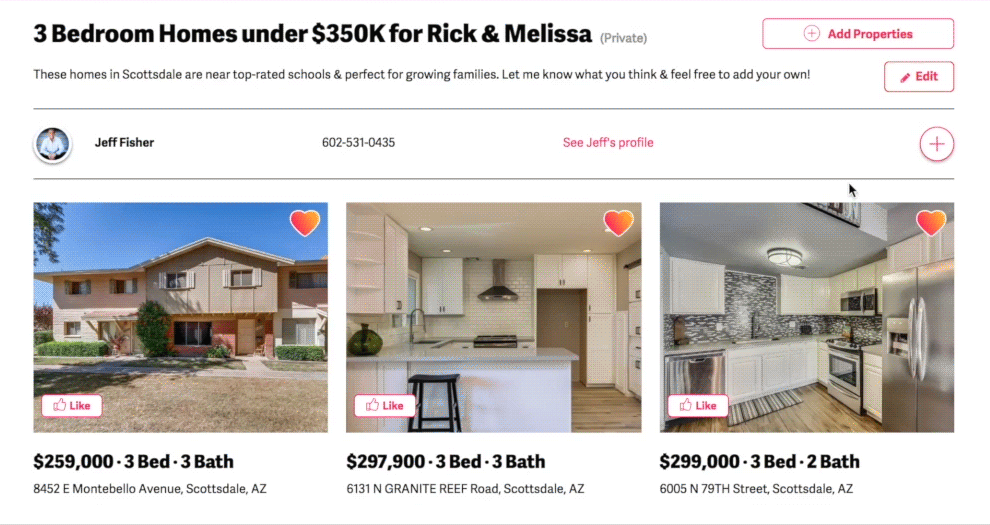 By using Collections to collaborate and communicate with his clients, Jeff can figure out exactly what it is they're looking for and better adjust his search.
All Collections that you create feature your name and contact information, meaning you can use them to engage with your audience and boost your brand online. Making Collections that feature listings in your area will help start conversations and show off your market knowledge, all while attracting potential clients to your business.
They're the perfect tool to spice up your social media posts and organize listings into one pretty package to present to your audience.
In the following Collection, agent Kathy Harris has zeroed in on a niche. She's specifically focused on equestrian homes on the market in her area. Kathy even created a catchy title, "Horsing Around Town," to attract attention and gain interest from her social media followers.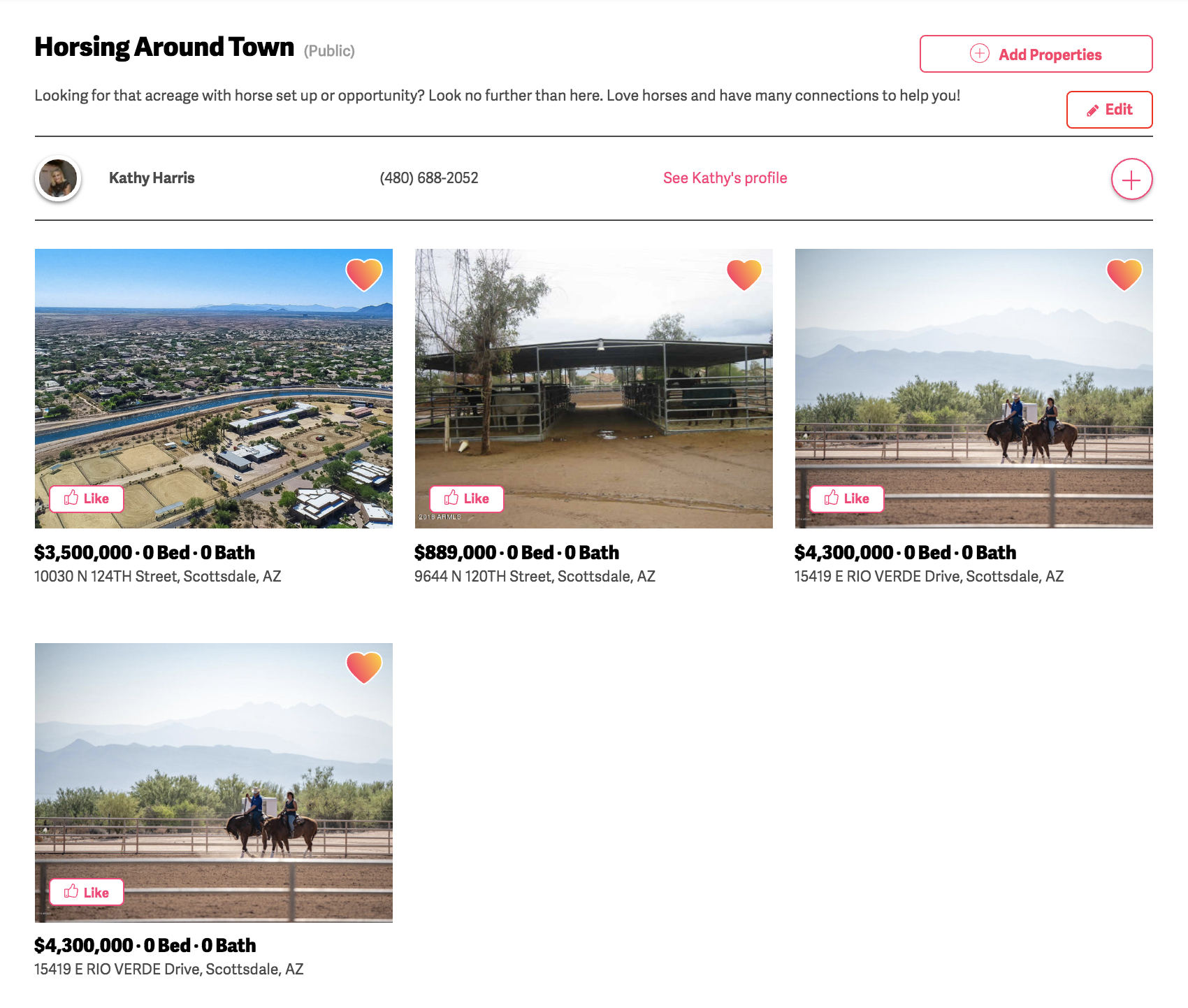 By sharing this Collection, Kathy is establishing her real estate expertise to her friends, family, and other online connections.
No active listings? No problem.
Collections allow you to go from zero to hundreds of listings by co-marketing any listing in the country. Co-marketing a property means that two or more agents work together to make a sale.
This is similar to buying a zip code with Zillow's Premier Agent, only with PropertySimple Collections, there will only ever been 2 agents displayed on the page, the listing agent and the Collection owner.
As the Collection creator, your contact info will be listed first and you'll also be featured as the "Pro Agent" on all listings within your Collections. No more competing with 3-4 other agents on the same listing. 🙌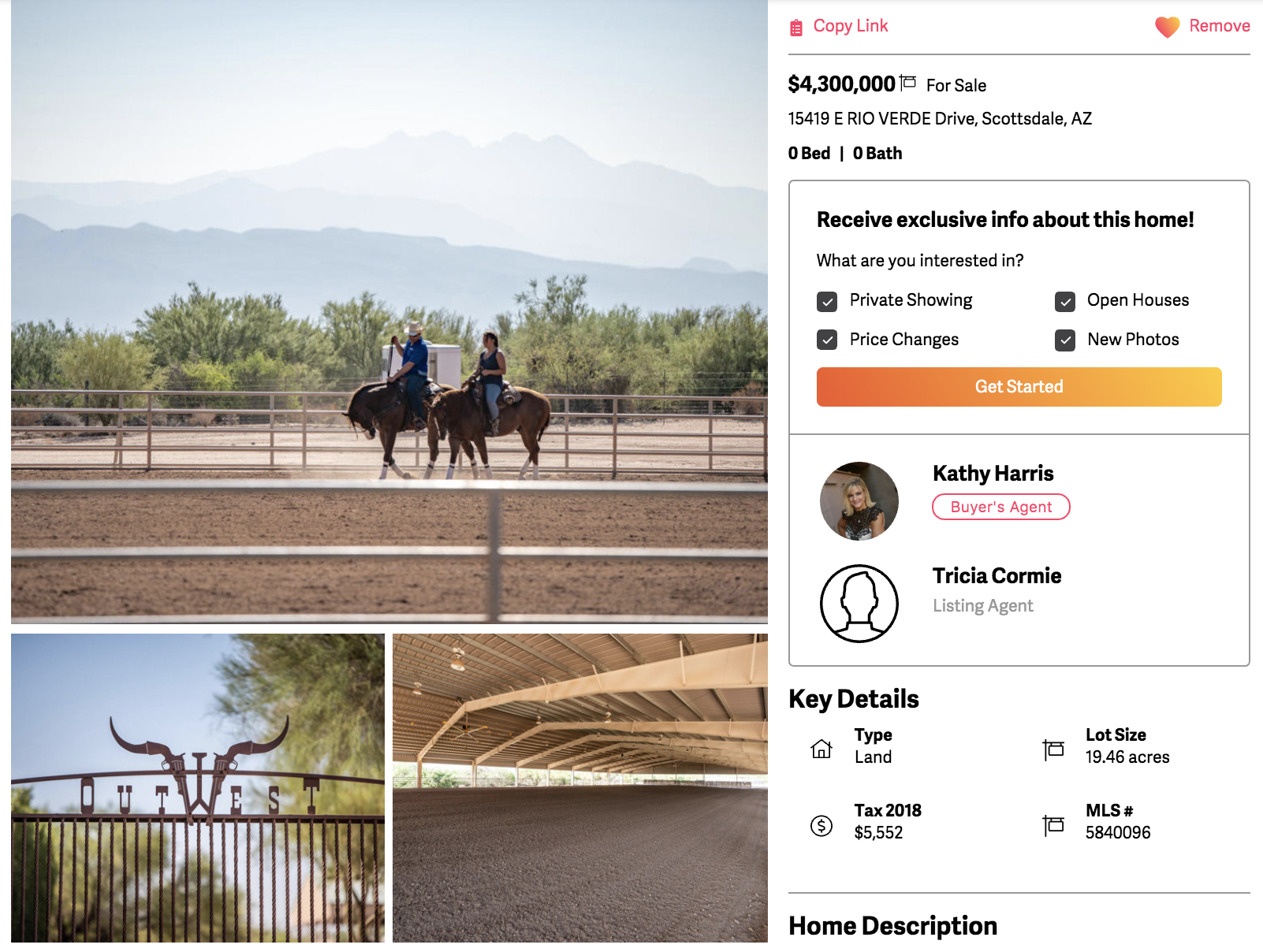 Co-marketing with Collections is a win-win: you bring the buyer to the listing agent and the seller. Choose any listing using our national search portal to co-market it in a Collection. And yes, this IS compliant!
So, now that you know what Collections are and a few ways to use them- let's go over how to make one!
We've designed Collections with our users in mind to be simple and user-friendly.
To make a Collection- log into your account at agents.propertysimple.com. Once logged in, go to your "My Brand" tab and scroll down to the sections labeled "Collections." From there, simply click the "New Collection" button to get started.
You can also create a new Collection by clicking the heart icon on any home in our property portal.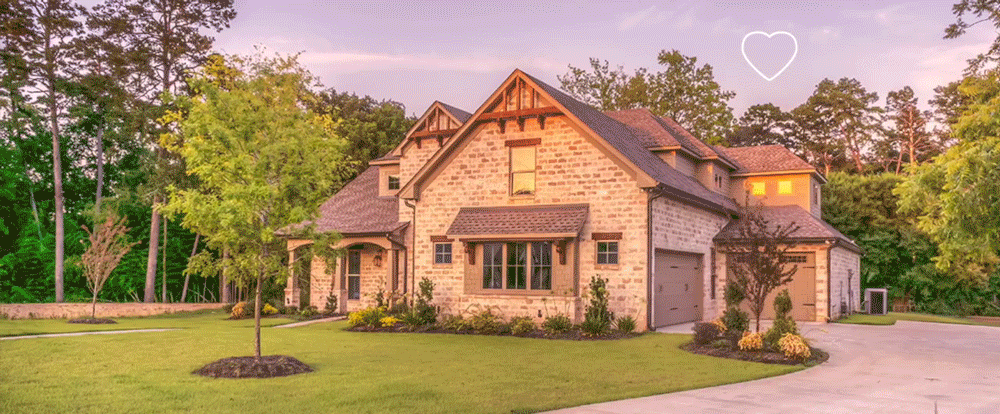 Next, choose if you'd like to make your Collection "Private," which means only you and collaborators will have access, or "Public" so that your Collection will be shared to your social media accounts and anyone who wants to can take a look.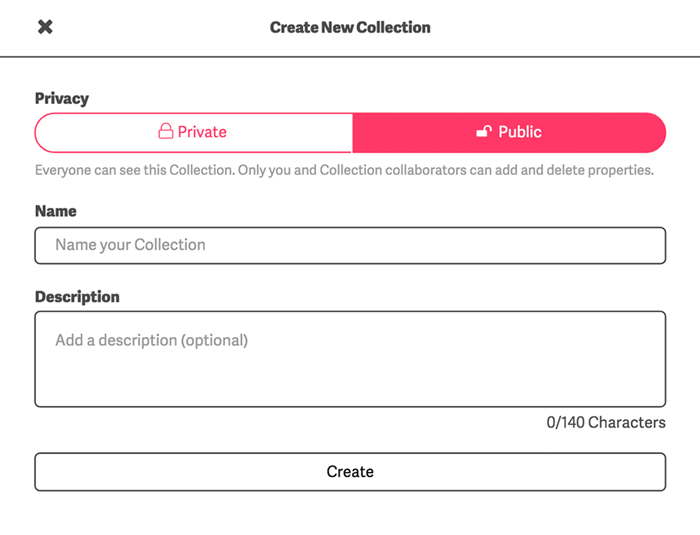 The following step, which is probably the most important, is to name your Collection.
Think of your Collection's title like a newspaper headline- it's the first thing potential clients will see and will most likely determine if they decide to click-through to view your content. A creative Collection title is your chance to grab attention and stop the social media scroll.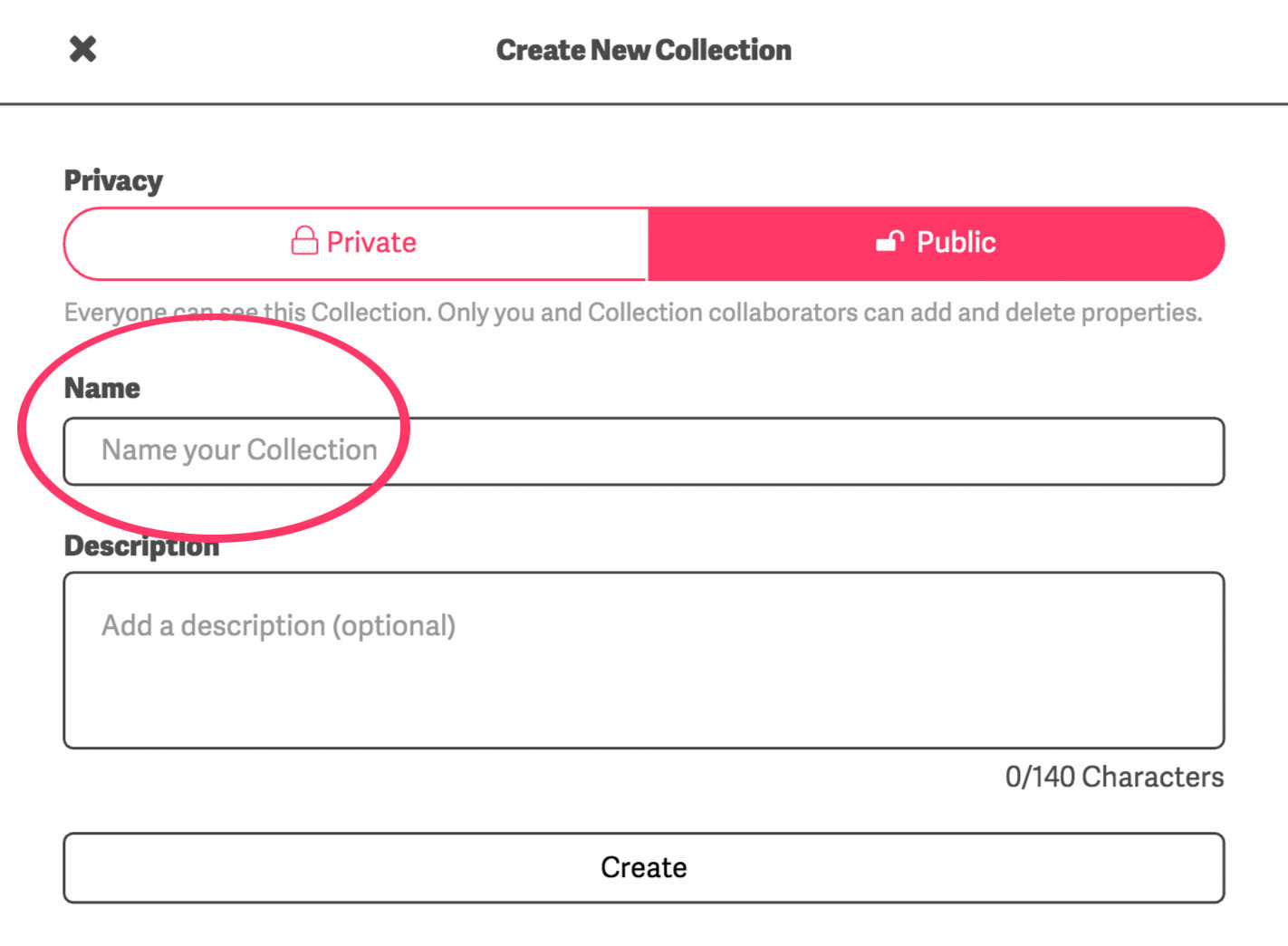 Then, it's time to write your description. When it comes to your Collection's description, the more details, the better. Give some specifics about the neighborhood, mention something special that you like about the area, or zero in on your niche.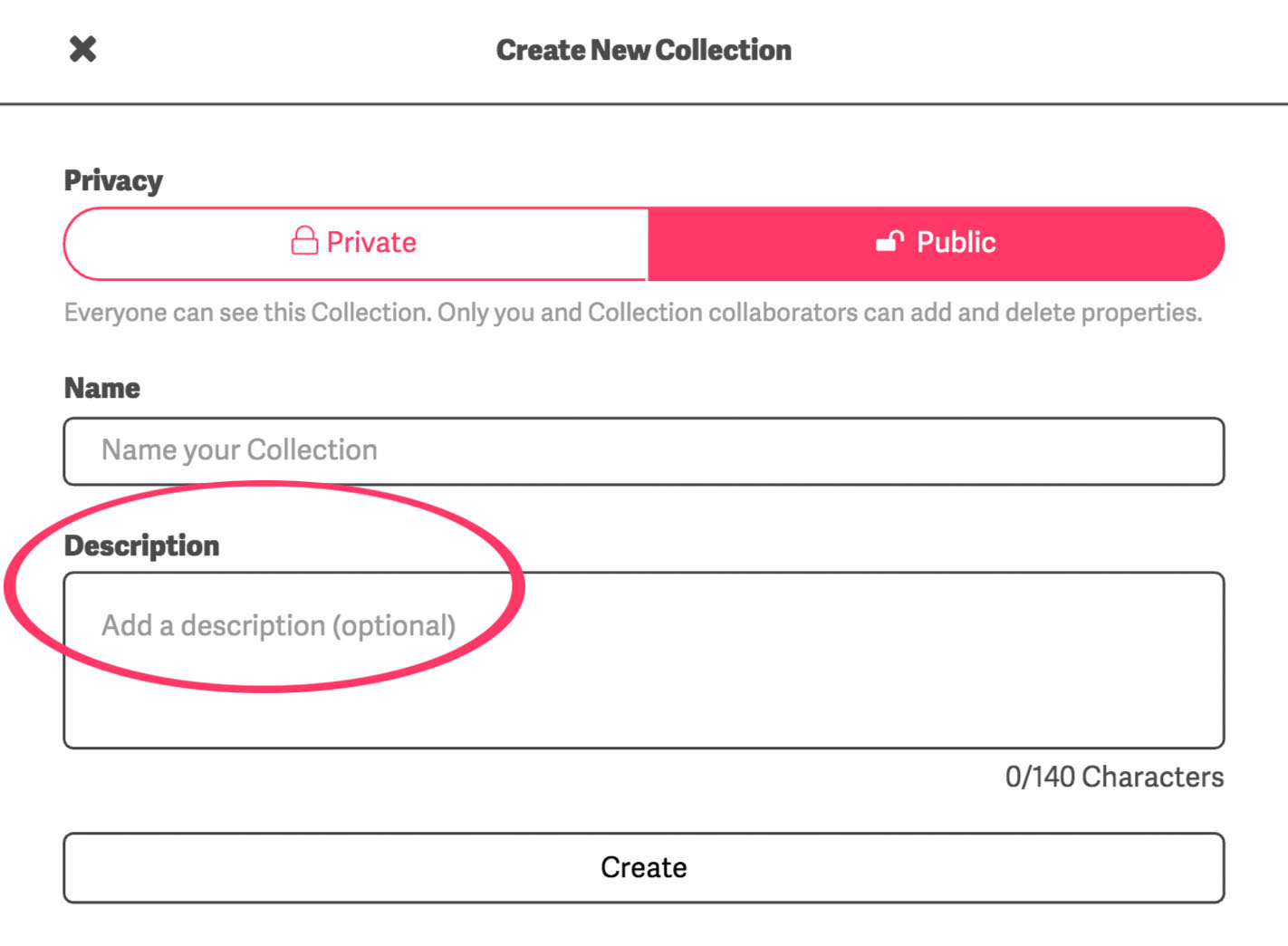 Once you're done filling in your name and description simply click "Create" and voilà! You've got yourself your first Collection.
Now comes the fun part- it's time to start grouping together your favorites! Click the heart icon on any property to add it to your Collection.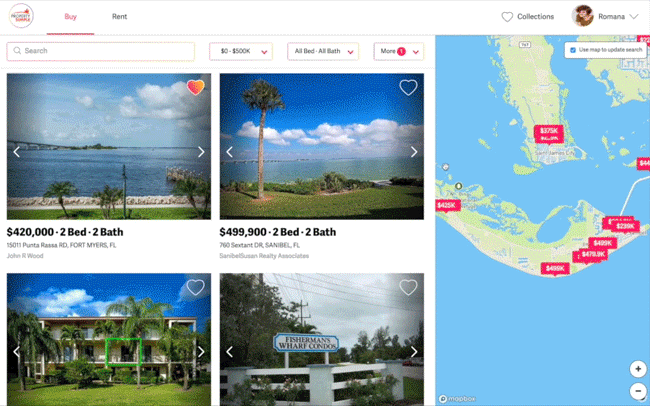 Pro Tip: We recommend including at least 5 homes in your Collection to provide a variety of options for your audience, but no more than 20 to keep it digestible and not too overwhelming.
For more tips and tricks on how to create a marketable Collection, watch the following webinar, or check out this blog post.
What are you waiting for?
It's time to go ahead and get started. 💪 Go make a Collection today and see for yourself what they can do for your business.
Collections are a powerful marketing tool sure to boost your real estate portfolio, improve your communication with clients and help bring in new business!
Not to mention, making Collections is a ton of fun 😉
Have questions? Feel free to drop us a line using the chat bubble in the bottom right hand corner.