Save Time, Money and Resources with Social Media Automation
To make it as a small business today, you must have a presence on social media. In 2018 it's no longer an option. It's a necessity.
The number of users on social media platforms is growing by the day, and you better believe that potential clients will be giving your personal and business profiles the once over before working with you. Social media is the first place consumers look for reviews and information and where they're spending the majority of their time online. So, if you want to grow your business and reach your target market, it's where you need to be.
The problem? Having a consistent presence on social media takes a lot of planning, time and energy. And as a real estate agent, you're super busy and often stretched pretty thin. You're always on-the-go and your schedule is constantly changing. How are you supposed to find time to sit down, create valuable content, schedule it to your various social media channels, and then monitor and respond to all comments and interactions? It seems near impossible.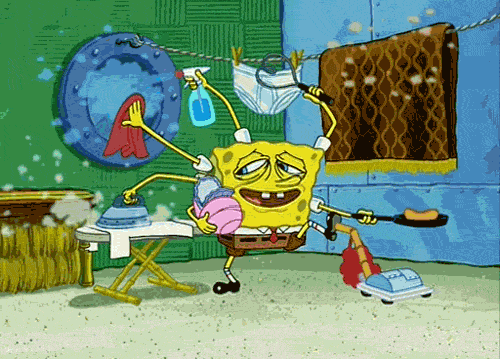 That's where we come in.
Here at PropertySimple we've designed a user-friendly platform for agents so that you can run a real estate related social media marketing campaign almost completely on autopilot.
Automation will help you achieve consistency. When it comes to social media, a consistent posting schedule and marketing strategy are key. Your followers will be confused (and possibly annoyed) if you flood them with posts one day, only to disappear the next. You want to be active, without overwhelming your followers. They need to know they can count on you and look forward to your posts on a regular basis.
Social media automation is a huge time saver. Having all of your content created and scheduled ahead of time leaves you plenty of time to do what you do best, sell.
Automation will also save you money. You know the old expression, "time is money?" Well, a solid social media strategy is sure to bring a great return on investment. With automation you'll spend less resources and working hours on repetitive and mundane tasks.
Lastly, automation will help you better connect with your social media followers. Contrary to popular belief, social media automation actually helps you put the personal touch back into your marketing. If you're not wasting time and energy creating and scheduling content, you can focus on engaging, ie on creating meaningful connections, nurturing your relationships and tending to the needs and questions of prospects and clients.
How does it work?
PropertySimple's social media campaign consists of real estate related content that is posted automatically across your social media channels at optimized times. The goal of your automated campaign is to increase your visibility online as a real estate agent, start conversations with prospects and bring in new business.
Your automated campaign will share a mix of your active listings, curated Collections, real estate related articles, your video business card, and pro portfolio to your connected social networks. Each and every post is designed to generate interest in your business and provide value to your network.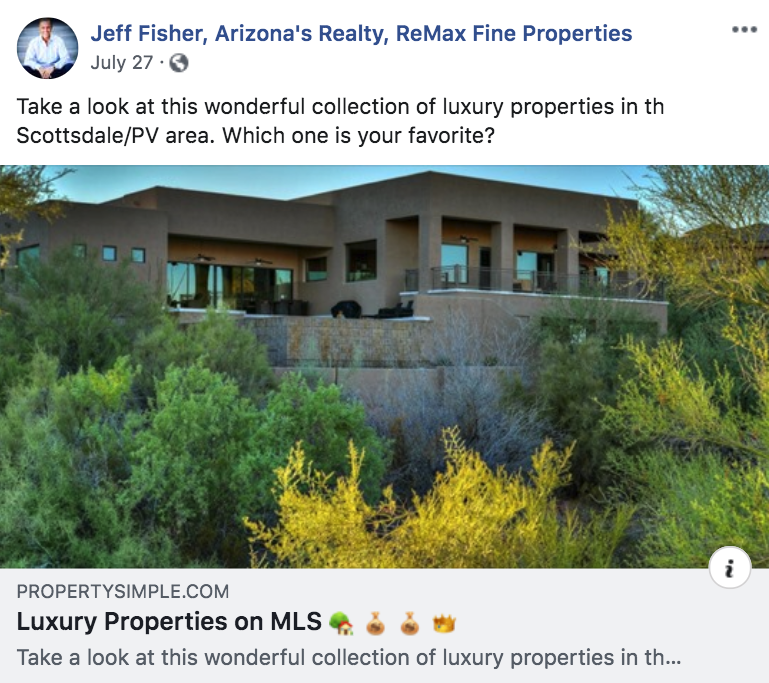 To get your automated campaign up and running all you have to do is follow a few simple steps.
First, if you don't already have one, make an account over at www.propertysimple.com/pro. It only takes a few minutes to fill out our quick sign-up form and connect your Facebook.
Once inside your account, you'll want to navigate to your "Brand" tab on the left toolbar to get your pro portfolio in tip-top shape. Within this tab, you can update your contact information, sync your active listings, enter a short agent bio and get started with some marketable Collections.

Once your portfolio is set up and ready to go, navigate over to your "My Content" tab, found under your Dashboard on the left toolbar.

Inside your "Content" tab you can customize the settings of your automated social media campaign. You should connect your Twitter and LinkedIn accounts, choose the types of content you'd like us to share on your behalf, and adjust the frequency of your posting.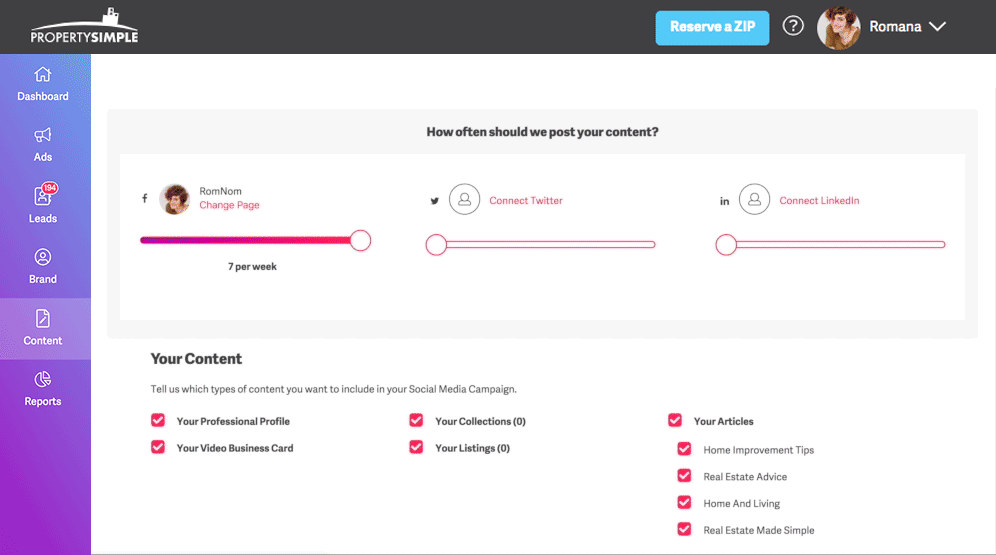 Connect your Twitter and LinkedIn accounts by clicking the "Connect" link next to each respective network. Once your accounts are connected, you can adjust the frequency of the social media posts that will go out on your behalf by dragging the sliders under each social media channel from left to right.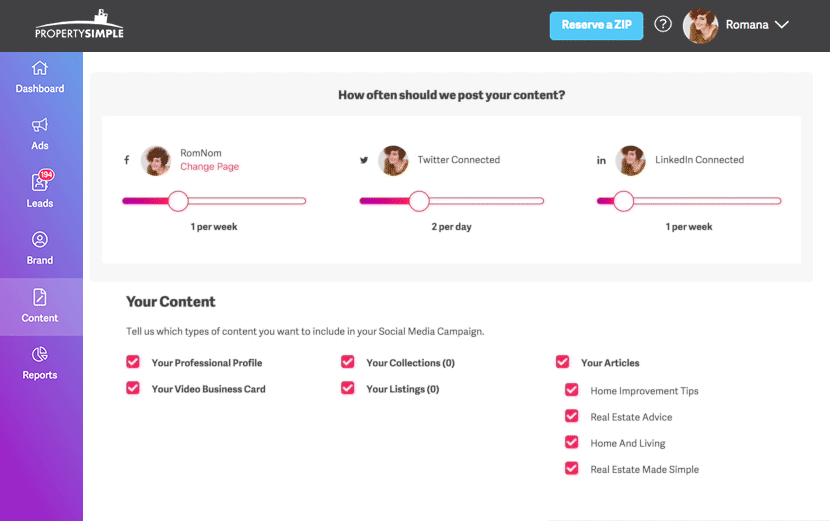 Pro Tip: If you're not currently very active on social media, we suggest starting slow and increasing your frequency over time. In general, we recommend that you post somewhere between 2 and 10 pieces of content in total per week to each social platform. Feel free to experiment with different frequencies, as you can change your settings at any time.
Under the section for setting your frequencies, you'll find a section labeled: "Your Content." Here you can control the types of content you'd like to share by checking or unchecking an item to add it or remove it from your scheduled posts.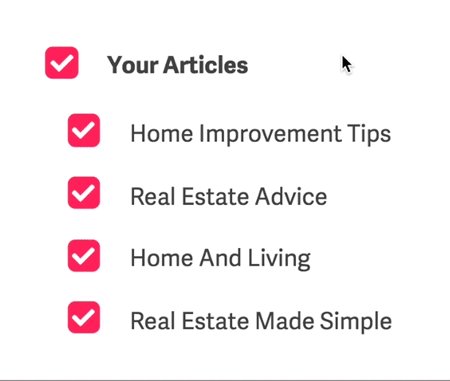 Scroll down a bit more and you'll be able to preview all of the individual pieces of content that make up your larger social media content mix. Easily search through your content using the filter options provided and add custom captions to those with a yellow "!" for an added personal touch.
Pro Tip: The only constant in social media is change. Finding the best strategy for your specific market will be a trial and error process, so be sure to experiment with different frequencies and custom captions to see which bring back the best results.
Follow these simple steps and your automated social media campaign will be set up and ready to go. Social media marketing automation is a huge time saver for real estate agents, empowering you to streamline your tasks and measure your progress.
Rather than spending hours a day completing mundane tasks like creating, planning and scheduling content, you can now put your energy into the many other things on your growing to-do list.