New ChatGPT CRM for Real Estate Agents
Hey there, PropertySimple community!
We're beyond excited to unveil a groundbreaking upgrade to our platform that's set to redefine the way you engage with leads. Our all-new ChatGPT-powered CRM and drip campaigns are here to revolutionize your follow-up process, making it smarter, more efficient, and way more personal.
Imagine this: the moment a lead comes in, our advanced AI steps in, taking the reins of your follow-up journey. But this isn't your typical automated sequence.
Our AI crafts unique and dynamic messages, ensuring that no two interactions are the same. Gone are the days of robotic responses and cookie-cutter emails. Your leads will receive messages that are tailor-made, genuine, and engaging.
So, what's the magic behind it?
🌟 Intelligent Automation: Our AI takes charge, dripping your leads with precisely timed texts and emails. Day one, a text message; day two, an email - all orchestrated seamlessly to make your leads feel special.
💌 Dynamic Content Generation: The content of each message is generated on the spot by our AI. That's right - authentic, one-of-a-kind messages that speak directly to your leads' interests and needs.
But that's not all! We're putting the power back in your hands.
✍️ Personalized Control: You're in charge. Edit, skip, or let our AI do the talking - the choice is yours. And if you want to dive into a more hands-on approach, you can easily take over the conversation the moment your lead replies.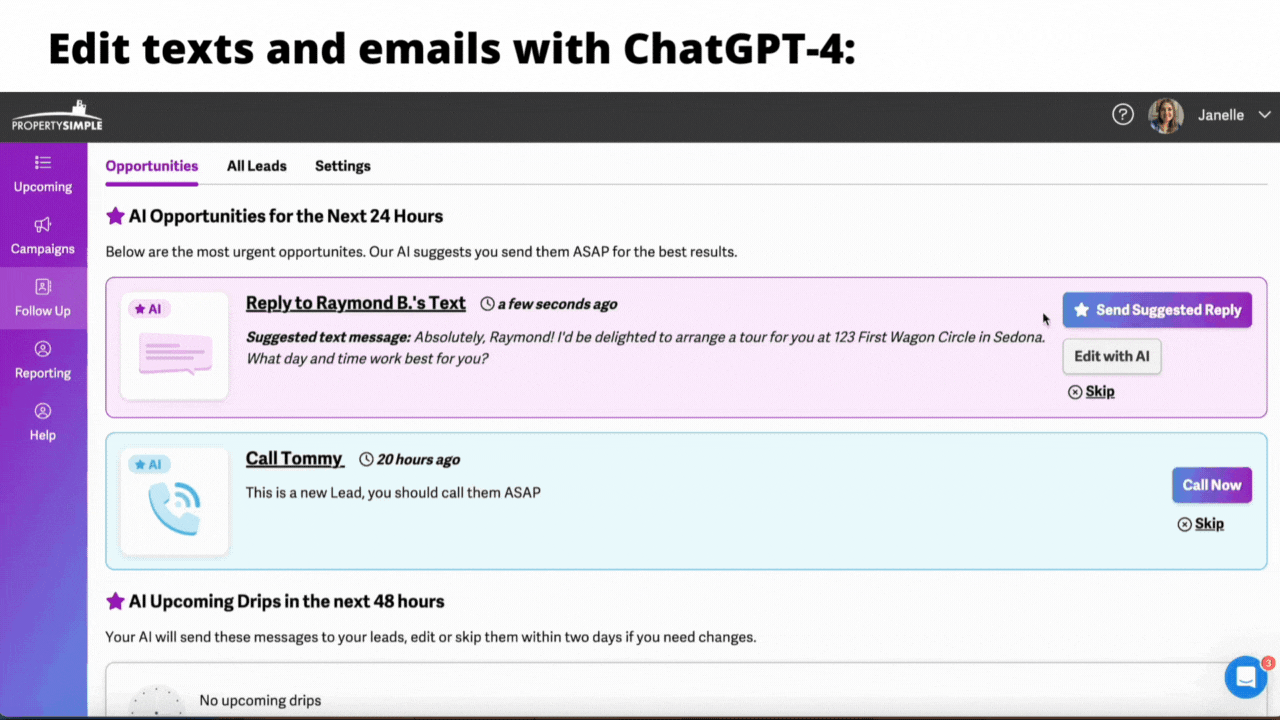 Our Follow-Up tab is getting a major makeover too.
📈 AI Opportunities in 24 Hours: This is where the magic begins. A dedicated space to connect with your leads - from new lead calls to responses - all expertly flagged by our AI for your convenience.
📧 AI Upcoming Drips: Sit back and relax while our automatic drip campaign takes the reins. Emails and texts will be sent over the first few weeks, tapering off gently. And the best part? You can still wield the editing wand, choosing to customize or skip messages as you see fit.
And for those who love a more personal touch:
⚙️ Fine-Tuned Settings: Turn off AI automation and take control your way. If handcrafted follow-ups are your thing, our settings allow you to keep it real.


We're here to make your life easier and your leads happier. This new feature is designed to streamline your follow-up process, saving you precious time and deepening your connections.
Stay tuned for more juicy details - because at PropertySimple, we're all about making your real estate journey smoother, smarter, and more successful than ever before.