How to Generate Real Estate Leads with Online Engagement
A little birdie told us you want LEADS...
Well, what do leads look like toay? Likes, comments and shares.
As you know, we're big believers in the automation of your social media strategy. However, there is one thing that can't be automated, ENGAGEMENT.
When it comes to lead generation, engagement has always been the answer. Today it just looks a little different. On social media, there is nothing more powerful than engaging with the people who took the time to interact with something you put out into the world. They are showing interest in your business and your job is to follow up.
The good news? What used to take a ton of effort and time, ie. picking up the phone to make a call or meeting for a face-to-face interaction, can now be done with the simple click of a button.
Here is how online engagement works:
It all starts when you post valuable content to Facebook, Twitter, and LinkedIn
➡️Then your network (your friends, family, past co-workers, etc) sees your content.
➡️If they're interested- they like, comment or share your content.
➡️You get a notification.
➡️You respond to comments, thank people for likes, drop a couple emojis and do this every time someone interacts with your content
➡️The more you respond, the more social networks recognize you as active and give you more exposure
➡️More exposure = more visibility = more engagement
➡️Suddenly, someone in your network reaches out in real life asking for help to sell, rent, or buy a property
Most agents don't do take the time to follow up and engage, and that's why 87% of them go out of business within 5 years.
It takes some work to succeed, but the work has never been easier than today with powerful platforms like Facebook and PropertySimple.
Step 1. Post to social media consistently.
Consistency is an important component of any strategic plan. The only way to measure whether or not something is working is to stick with it.
When it comes to social media, posting consistently increases the chances that your network will see your content and presents you more opportunities to connect with them. Posting valuable content consistently ensures your audience will know what to expect. They'll also be more likely to follow or engage with you. If you have a set posting schedule in place, people will start to count on your content.
Yes, we know. Having a consistent presence on social media takes a lot of planning, time and effort. And as a real estate agent, you don't have a lot of extra time on your hands.
That's why we create, plan and schedule valuable real estate related content for you. Our software posts consistently and automatically on your behalf to your social media channels at optimized times. With PropertySimple you have full control over your posting schedule and can customize the types of content you'd like us to share, as well as the number of times per week you'd like to post content to your network.
Remember, consistency is key!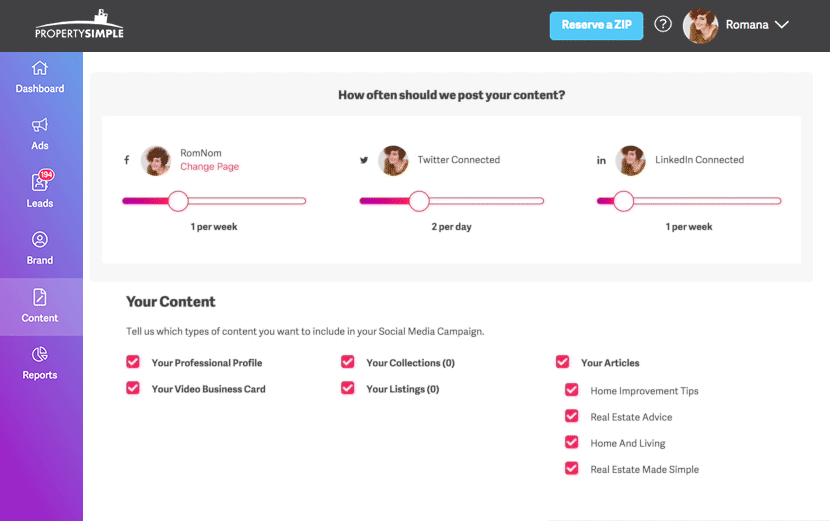 For more info on PropertySimple's automated social media campaigns click here.
If someone started a conversation with you in person, you wouldn't ignore them. If a friend called you and you weren't available, you'd call them back later. Well, the same goes for social media.
Each and every interaction on a piece of your content is an opportunity to start a conversation and show off your expertise. Take advantage of these moments. Answer even the silly comments like "cool" or "nice" with a "thank you" and a tag. This will show your network that you appreciate the time they've taken to interact with your content.
Also, the more you post and interact, the more social platforms will recognize you as an active user. Facebook, Twitter, and LinkedIn favor content from their active users and show it more to others. That means even more visibility, likes, comments and shares from prospective clients for you.
Why sit back and wait for your network to come to you? Instead, make the first move yourself. Encourage your followers to interact with your content by including compelling CTAs or calls to action in your social media copy.
A call to action is a statement that elicits some sort of response. CTAs optimize your content for engagement by asking your audience a question or telling them exactly what you'd like them to do.
For example:
If you'd like to reach people outside of the scope of your own network, why not ask your audience to share your post or tag a friend in the comments. A CTA that provokes this type of response could read: "Share this post if you know someone shopping for a home in Scottsdale!"
Say you're sharing an interesting real estate related article to your audience. In this situation you're CTA could say something like, "Tag someone in the comments who'd find this article helpful."
If you like to get potential clients on the phone, drop your number and ask them to call you for more info.
In this post, real estate agent Jeff Fisher instructs his network to "Click the link below" to learn more about this home. His goal is very clear- drive traffic to his listing.
Keep in mind that your posts should only include one call to action and it should be clear, and concise.
In the example above, Jeff added a custom caption to his listing within his PropertySimple library. Adding custom captions to your posts will give them a personal touch, increase the number of people who click through to your content, and skyrocket your number of interactions on social media.
To add a personalized message to any piece of content within your PS library, simply go to your "Dashboard" or "My Content" tabs and click the "Edit" button to the right of that content. Then type your message in the text box (CTA included!) and choose "Save & Exit."
If you're on a writing-roll, you can keep on adding captions to your content by selecting "Save & Edit Next."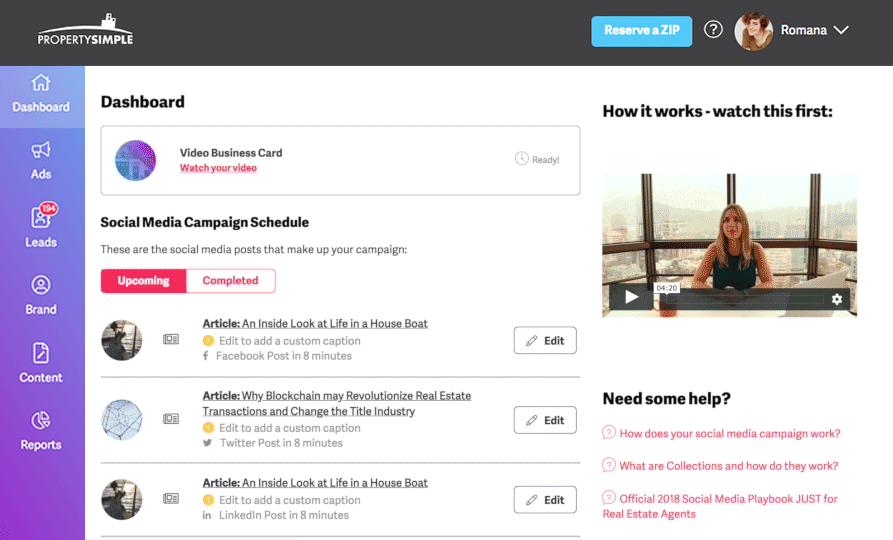 To figure out which posts need a caption look for the yellow "!" meaning you haven't added a custom message yet. The green "✓" means you've already created a caption and that content is ready to go!
For more on custom captions and how to use them, check out this post.
Step 4. Take advantage of the full scope of your network.
The beautiful thing about social media is that the connections you make don't end with only those you know personally. Social platforms allow you to interact and connect way beyond the scope of your own friends, family, and acquaintances.
Encouraging others to share your content (like we mentioned above with CTAs) and sharing it yourself in multiple places will maximize your exposure and increase the number of people who see it.
For example, instead of only posting your real estate related content to your Facebook business page, share it to your personal Facebook profile, a Facebook event you've created or even a local Facebook Group that you're a part of. You should also be sharing this content to your Twitter and LinkedIn accounts.
Sharing your content in multiple places will get it in front of more of your network and increase the number of people who take interest in your business.
With your PropertySimple Pro account, we automatically share real estate related content across your different social media channels for you. You also have access within your account to share any piece of content in your library whenever you'd like, anywhere on Facebook.
To share on demand, simply go to your "Dashboard" or "Content" tabs and click the "Share" button next to any piece of content to post it.
Interested in more ways to take advantage of PropertySimple's Share Now feature? Read this post.
You want to begin building a foundation as soon as possible to show your network they can trust and rely on you. Actively engaging and replying to all questions, comments, and other interactions will show your network that you're a real estate professional they can count on.
The sooner you start engaging, the better. 👌