How to Market any U.S. Listing as a Buyer's Agent with Collections
PropertySimple Collections help you start conversations, show off your market knowledge and attract potential clients to your business.
For those of you who don't already know, Collections are handpicked groups of local properties that feature your contact information. You can think of them like galleries or online wishlists of homes that you build based on criteria like interests, amenities or price-points.
If you're new to Collections, you can read all about them and how they can help your business here.
Already onboard? That's great! Today we're sharing a few tips and tricks to get you started.
To get the most out of your Collections feature, watch the below webinar, or follow the tips in this post.
First things first - create your Collection.
To make a Collection - log into your PropertySimple account at agents.propertysimple.com and navigate to your "Brand" tab. Don't have a PropertySimple account? Sign up today.

Within this tab, scroll down and click the "New Collection" button. You can also get to this step by clicking the heart icon on any property within our portal.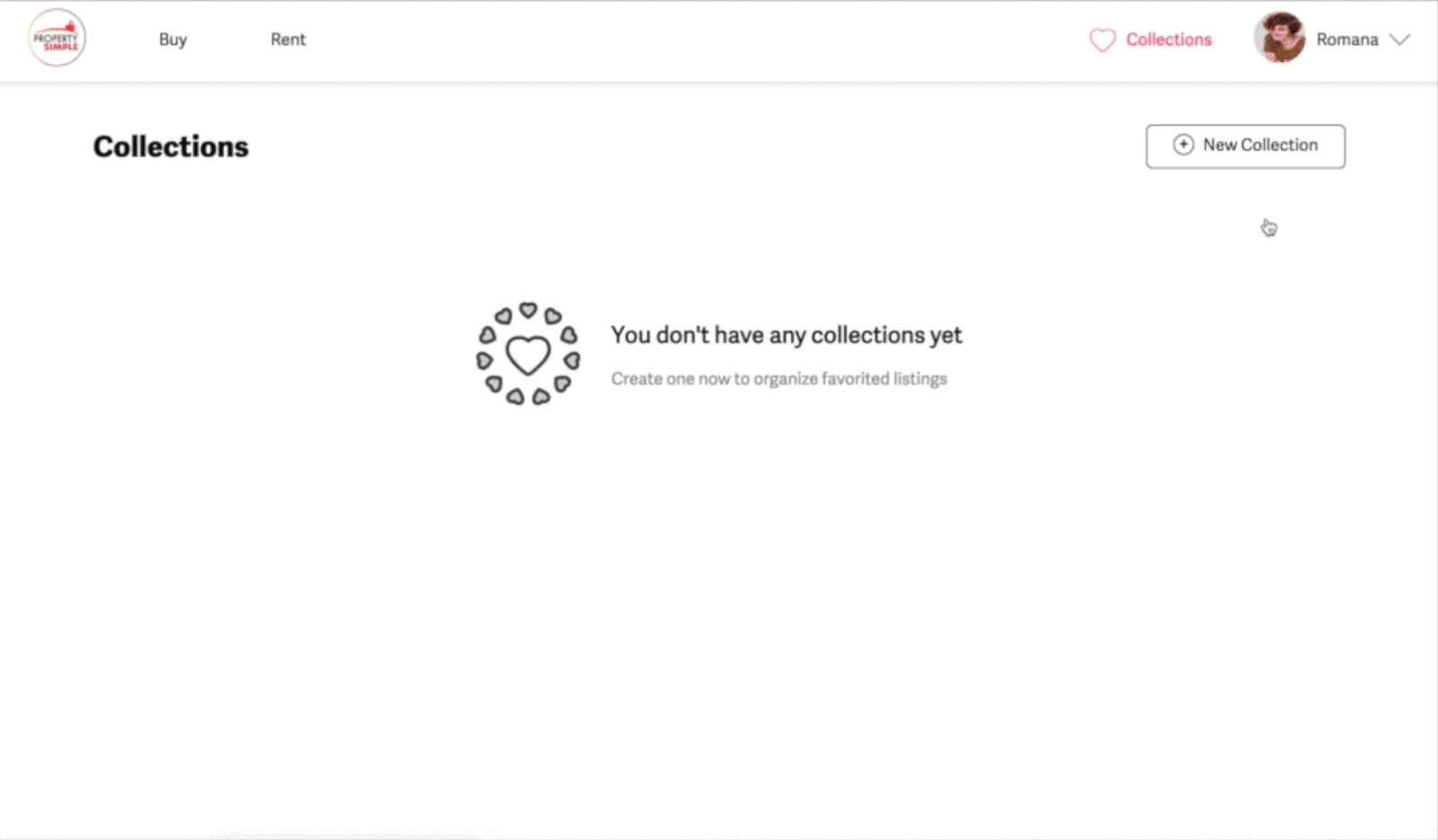 Choose if you'd like to make your Collection "Private," meaning only you and collaborators will have access to it, or "Public" so that your Collection can be shared to your social media channels and anyone can take a look.
Give your Collection a catchy name.
The next step, which is probably the most important, is to name your Collection.
Think of your Collection's title like a newspaper headline - it's the first thing buyer leads will see and will most likely determine if they decide to click-through to view your content.
A creative Collection title is your chance to grab your audience's attention and stop the social media scroll.
Pro Tips for naming your Collection:
Keep your title short and simple.
Use numbers in your title to hook interest.
When possible, concentrate on your real estate niche or expertise. It's what helps you stand out and sets you apart as an agent!
For inspiration, let's take a look at some examples of catchy Collection titles:
Family-Friendly Homes in Old Town Scottsdale
Hidden Gems under $400K in Haddonfield, NJ
BYOH (Build your own Home) in Santa Fe, New Mexico
Vacation Homes on Sanibel Island for under $550K
Affordable Homes for First-Time Buyers in Madison
Historic Homes on the Market in New Orleans
Move-In Ready Mansions in Los Angeles
Don't be afraid to be bold, be clever or even use jokes or puns in your Collection names. Whatever you do, have fun and remember not to take Collections too seriously! 🙃
Add a detailed description.
Once you've settled on a catchy Collection name, it's time to write your description. When it comes to your description, the more details, the better. You'll still want to keep it short and sweet, but this is your chance to share more about the homes you've chosen and why your audience should take the time to have a look.
Show them you know what you're talking about! Give some specifics about the neighborhood, mention something special that you like about the area, or zero in on your niche. The more descriptive, engaging and relevant your description, the more likely you are to attract interest from potential clients!
As an example, let's look at a Collection by agent Christa Lawcock: While Away in Willo: Wonderful homes in Willo Historic.
In her description, Christa wrote: "Situated just north of Downtown, the Willo Historic District includes Tudors, Spanish Colonials, Bungalows and Ranch homes from 1920-1960."
This copy packs a punch! In just a few words she tells you where the homes in her Collection are located, what types of homes you will find there and even what time period the homes were built in. Christa does a great job enticing her followers to take a look with her description.
Click "Create."
Once you're done filling in your name and description, simply tap "Create" and get on to the fun stuff. It's time to start adding properties to your Collection.
Using our national property portal at propertysimple.com search for listings that fit your Collection. Use our portal's built-in filters to narrow down properties based on criteria such as price points, number of rooms, the type of home, and other features & amenities.
Pro Tip: We recommend including at least 5 homes in your Collection to provide a variety of interesting options for your audience, and no more than 20 to keep it digestible and not overwhelming.
Collaborate with clients.
You can take your use of Collections one step further and use the tool to collaborate with your buyer leads, stay on the same page, and search for properties online together. They're a fun and interactive way to shop for your dream home with the help of your agent.
To add collaborators to your Collections, simply click the "+" sign in the top right corner of your Collection, enter your client's email address, and invite them to join you. Once your invitation is accepted, your collaborators can begin adding homes they like, allowing you to get an idea of what they're looking for and better assist them in their search.
There you have it! Ready to get started?
We can't wait to see what you come up with!
Once you've created your Collection, we'll take care of the rest for you and automatically post it to your Facebook, Twitter, and LinkedIn at times when your network is likely to be active.
Tag us in a Facebook post (@PropertySimpleUSA) with a link to one of your Collections for a chance to get featured on PropertySimple's social media channels!