87% of Agents Who Follow these Steps Have Success with PropertySimple
Congrats!! You've successfully signed up for PropertySimple. We're excited to get to work for you! 🎉
If you haven't signed up for PropertySimple yet, get started today at propertysimple.com/pro!
To help you get the most out of your new social media marketing campaign, we've put together some simple steps to set you up for success.
We've found that 87% of agents who complete this quick list of to-dos experience success with the PropertySimple platform.
Take it from real estate agent Jeff Fisher. After embracing social media and PropertySimple's suite of tools, Jeff was able to grow his business from $1M to more than $10M in real estate sales in just a few years.
So, you know what that means - no shortcuts! 😜 Complete this list and you'll be well on your way to social media marketing success.

To get started, log in to your account at agents.propertysimple.com.
STEP 1. Connect your Facebook Business Page.
This step is critical. Without connecting your Facebook, we can't do much for you.
Make sure to give us full permissions, or we won't be able to schedule & post content on your behalf.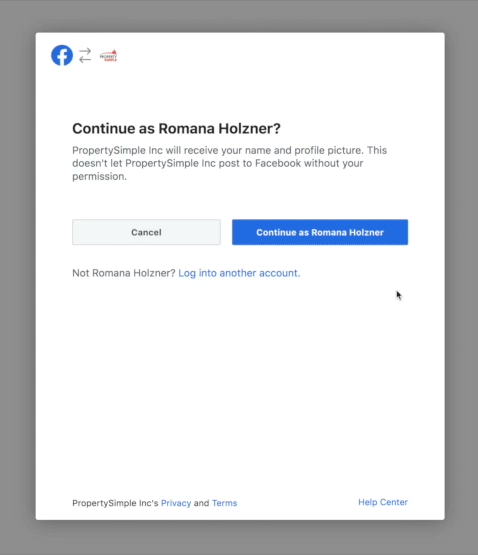 Once your Facebook has been connected you'll be redirected to your Dashboard. Here you'll find a checklist with 6 items to help you get your account set up quickly and easily.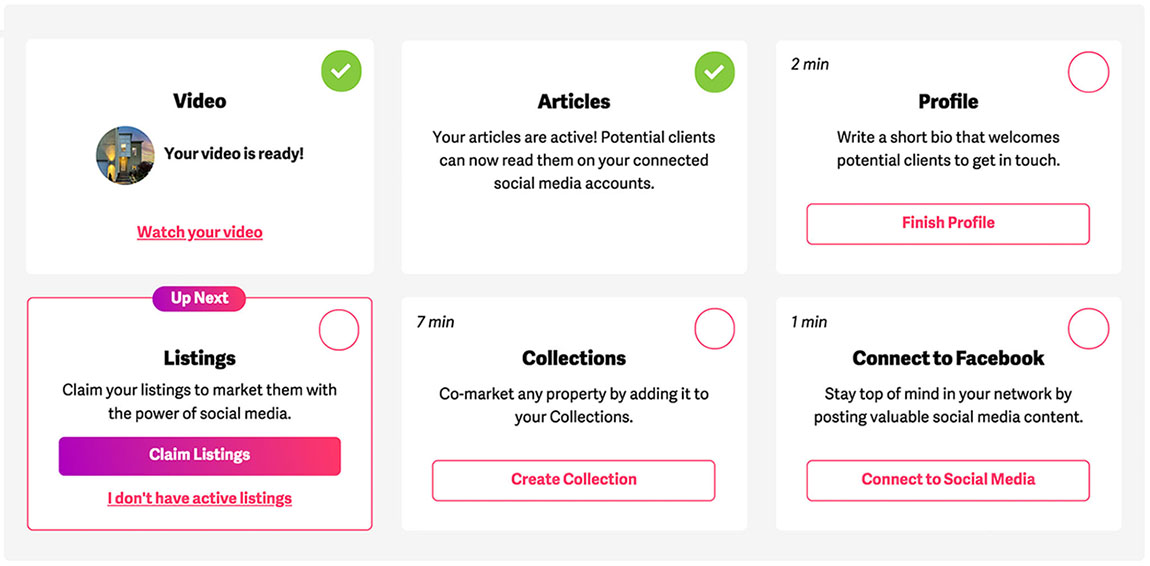 Chances are you'll see that your video business card and articles are checked off, all set and ready to go. Note: If you recently created your account, your video business card may still be processing. It should be ready in about 3 minutes.
STEP 2. Sync your active listings.
Syncing your listings will claim them for you on our consumer search portal and allow us to show additional info about you and your business on each of your listings. This makes you and your listings stand out big time on our platform.
Here is how you do it:
On the Dashboard, tap the "Claim Listings" button and enter the email you use for your MLS. We'll send you an email to confirm it's you. Simply click the confirm button in that email and you'll be ready to go.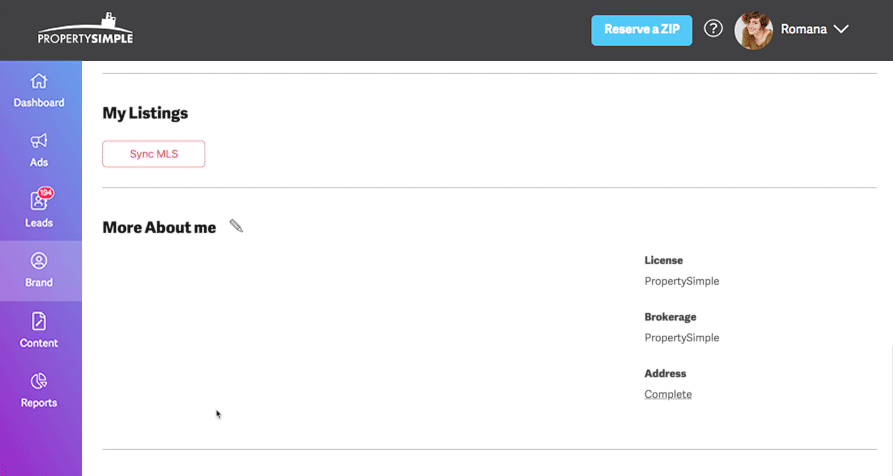 If you don't have any listings, don't worry. Simply choose the "I don't have active listings" option beneath the claim button and you can go back and sync listings later. If you have listings, but we can't find them for whatever reason, click the chat icon on the bottom right and let us know. We'll sort it out for you!
STEP 3: Complete your portfolio page.
This is your unique profile page on PropertySimple, visible to the millions of people who search for homes with us. It's also the page all your content will link to and where prospects can reach out to you directly- so you'll want to make sure sure it's complete.
Most of the info displayed on your PropertySimple Portfolio will already be filled in from the information you provided on the signup form, but you'll be missing three things:
Your agent bio
Your awards and accomplishments
Address of your brokers office
Add these fields by clicking the "Finish Profile" button on your Dashboard. Make sure to to save the info you've entered.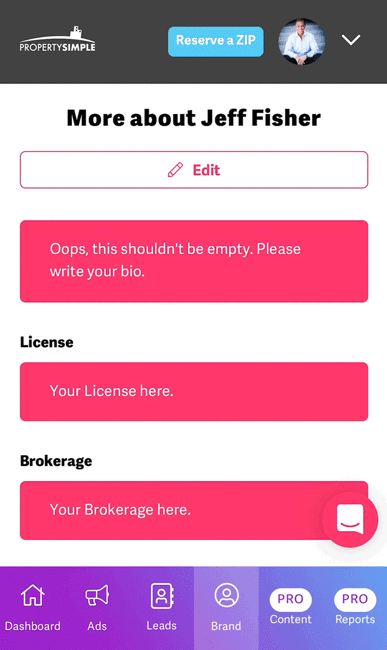 Feel free to take some ideas from Jeff Fisher's real profile:

Pro Tip: If you or your brokerage already have a website where your bio is listed, or you have a bio on your Facebook page, or somewhere else online, you can simply copy and paste that bio and reuse it here. 😉
Once your profile is complete, you can get on to the fun stuff. You've officially made it to the magic moment!
STEP 4: Make your first Collection.
Collections are groups of properties you can market and get buyer leads from. You pick the properties you like, add them to a Collection, and your contact info along with the listing agents info is shared on all the properties in the Collection.
It's a win-win. Any leads You generate are shared.
Collections are PropertySimple's version of buying a zip code, except all Pro accounts have access to them and you get to pick the properties you'd like to market.
Agents who create 5 or more collections get twice the visibility and interactions with PropertySimple as agents who don't.
Need ideas? Imagine what people in your city or circle might be searching for, concentrate on your specialty, or niche and then group properties together with a catchy name and detailed caption.
In the example below, Jeff grouped a few homes together close to where he has an active listing, knowing that people in his network might also be looking for homes in this subdivision.
Here's how it looks when posted to Facebook:

Check out his Collection on PropertySimple.

To make your first Collection, simply click the "Create Collection" button on your checklist.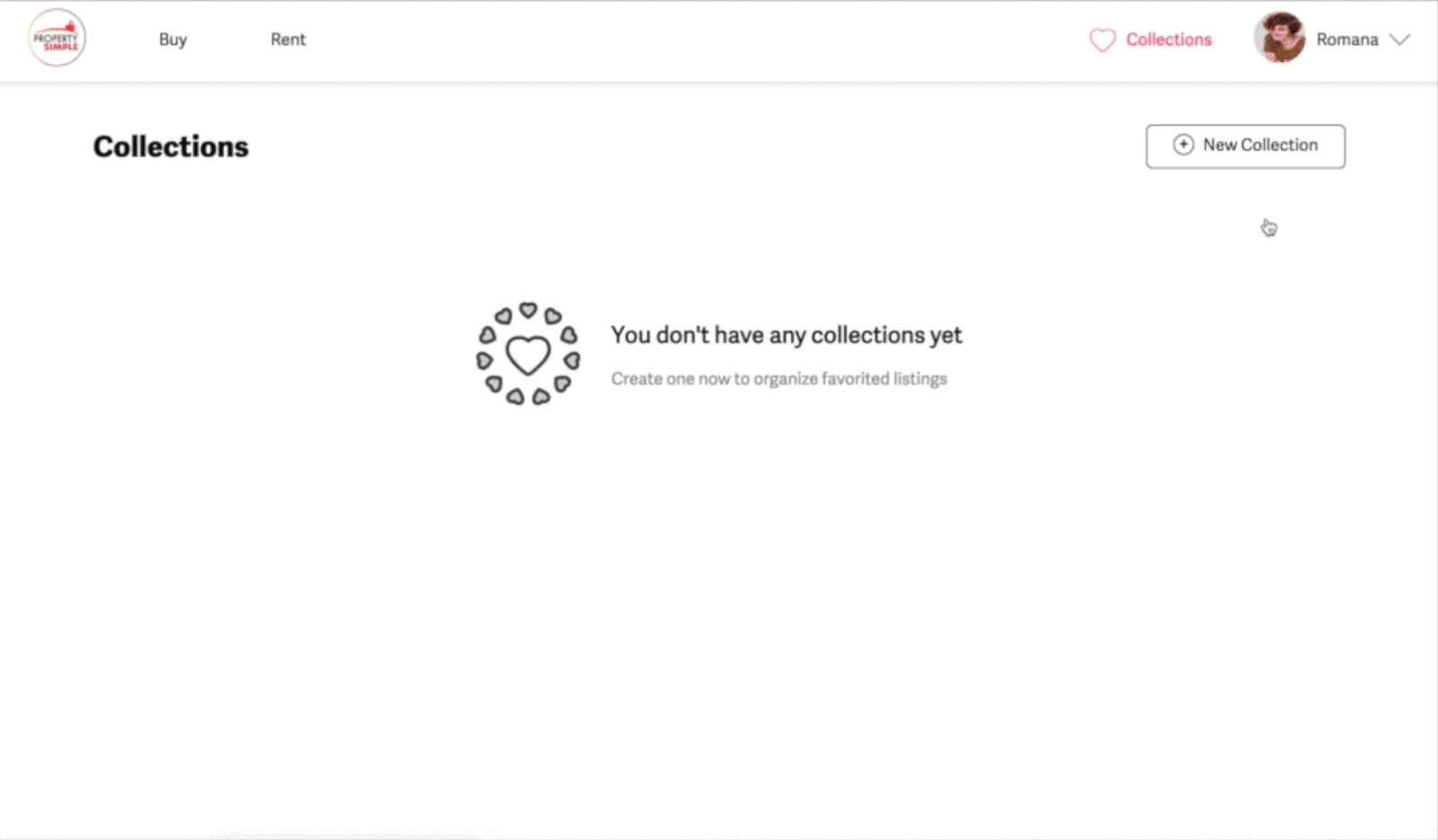 You'll then be prompted to choose whether you'd like your Collection to be private, meaning only you and collaborators have access, or public, which means anyone who wants to can take a look.
Note: Unless you'd like to share a collection discreetly with an active client, make sure they're public so we can show them on your profile and share them on social media.

Pro Tip: Give your Collection a catchy name and detailed description to draw prospects in and tempt them to take a look at the homes you've chosen.
Need some inspiration? Check out some more of Jeff's Collections 👀
Once you create your Collection, you'll be redirected to our nationwide property portal. Here you can search for homes you'd like to group together. To add a home to your Collection, simply click the heart icon in the upper right corner of the photo. It's that simple!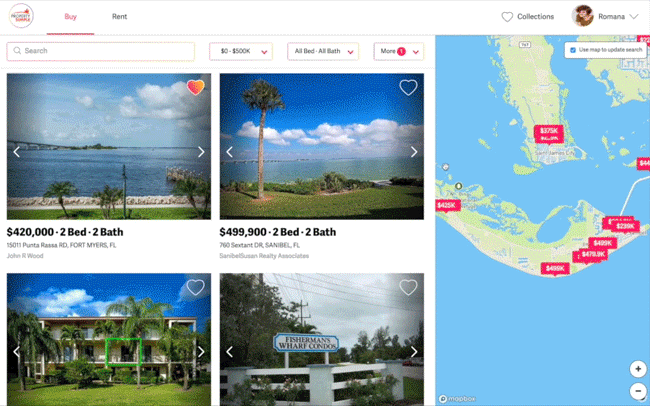 For more tips on how to make marketable Collections, check out this blog post.
We can't wait to see what you come up with 🤗
You did it! Your Dashboard checklist should now be at 100%. You've successfully completed your PropertySimple portfolio! 💪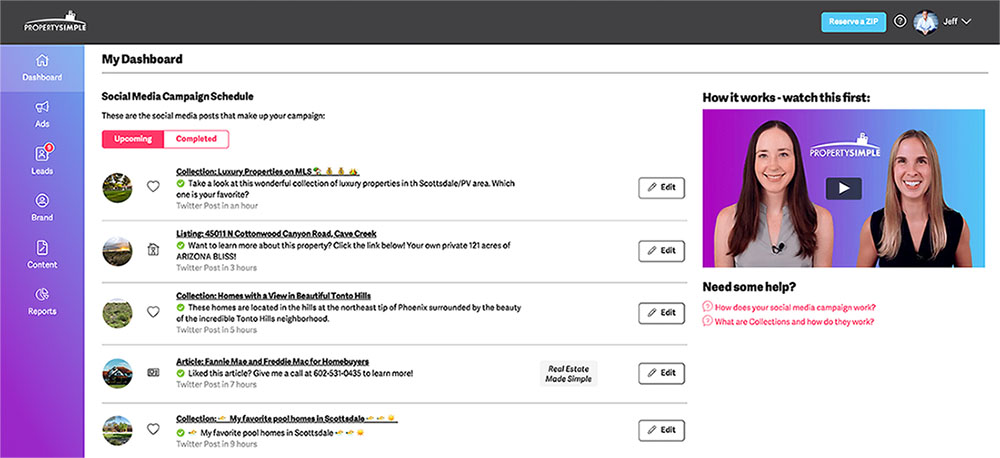 Your checklist will now disappear and your Dashboard will be replaced with a view of your upcoming and completed posts.
Here you can see what content is scheduled to go out on your behalf and to which channel. You can also toggle the view to see what pieces of content have already been posted.
LAST STEP: Connect additional social networks and customize your settings.
Go to your "Content" tab. Find your "Content" tab on the left purple toolbar.

Once in your "Content" tab, the first thing you'll want to do is connect your Twitter & LinkedIn accounts. To do so, simply click the "connect" option next to each social channel.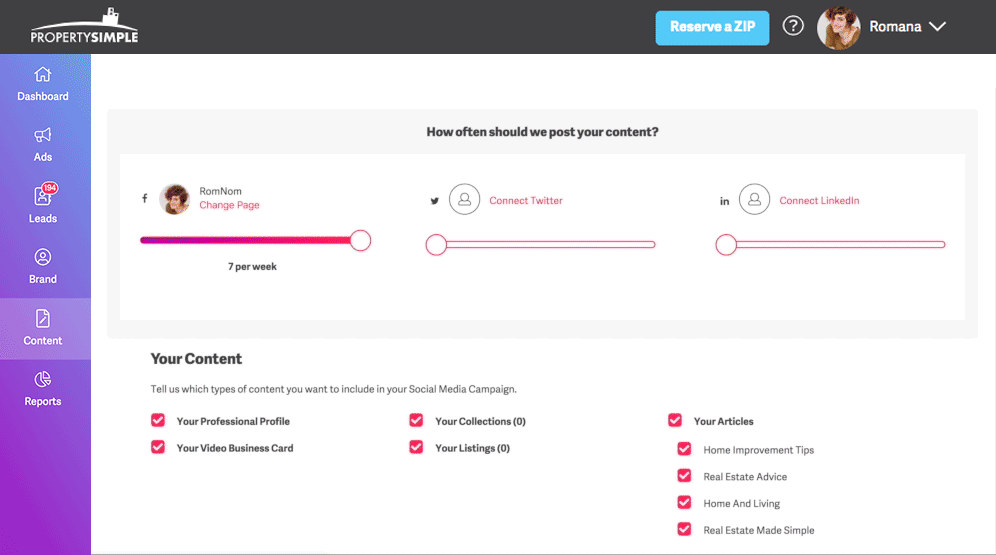 Don't have a Twitter or LinkedIn account? Don't worry. They're super easy to set up!
Once your accounts are connected, you'll want to customize the frequencies at which we post to your social media channels on your behalf.
To adjust your frequencies, simply drag the slider under each channel from left to right. Take note that your Facebook Page is set to post 7 times per week or once per day by default.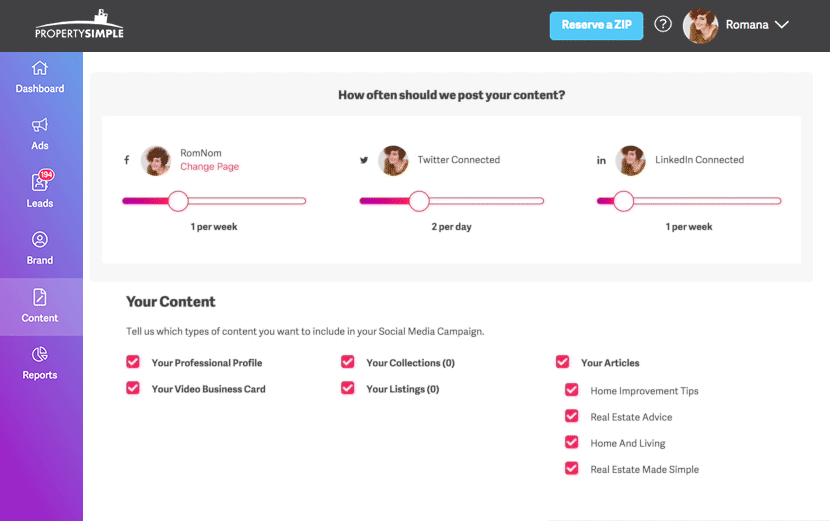 Pro Tip: When beginning your social media campaign with PropertySimple, we suggest starting out slow, especially if you're not very active on social media yet.
You don't want to all of a sudden flood your network with tons of content. Instead, you'll want to ease your audience into your consistent real estate related posts at a steady pace and increase your frequencies with time.
Suggested start frequencies:
2x per week on Facebook
2x per day on Twitter
2x per week on LinkedIn
After adjusting your frequencies, scroll down to your customize the types of content we'll post on your behalf. Simply check or uncheck the boxes in the "Your Content" section to choose the types of content you'd like to share with your network.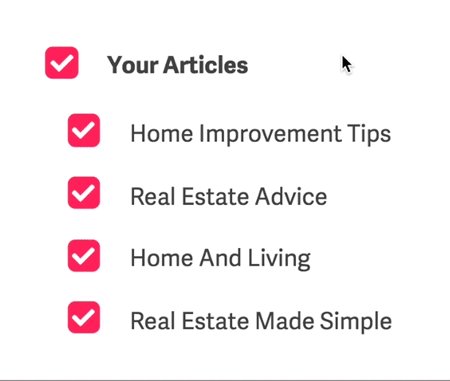 This last part is 100% optional, however agents who are active on social media love this feature! Under your "Write Custom Captions & Share Your Content" section, you can add custom captions to your content to share using the "Edit" button.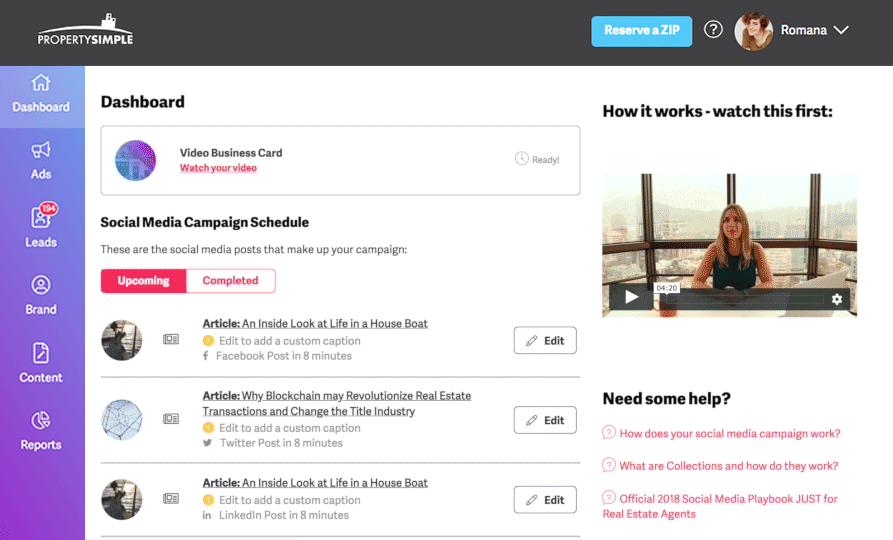 Note: If you've decided to keep most of our content options clicked to share, adding captions will take some time. Don't rush this process and try to add captions to all of your content in one day.
Instead, navigate to your Dashboard, where you can add personalized messages to your upcoming posts. (See above). This is a great way to distribute the work in a manageable way. You can add captions to all of your content over time. For more on Custom Captions, check out this blog post.
See! That wasn't so bad, was it?
If you completed this to-do list, your social media marketing campaign should now be set and ready to work for you!