The First EVER Social CRM for the Modern Real Estate Agent
Hey there! 👋 Quick question for you: Do you put as much time and effort into lead follow-up as lead generation?
We're going to guess the answer is no. Why? Because you're not alone.
Did you know that 66% of real estate agents give up on leads after only two follow-up attempts? AND that 80% of sales require 5 or more follow-ups.
Guess it's no surprise that 87% of agents go out of business within 5 years...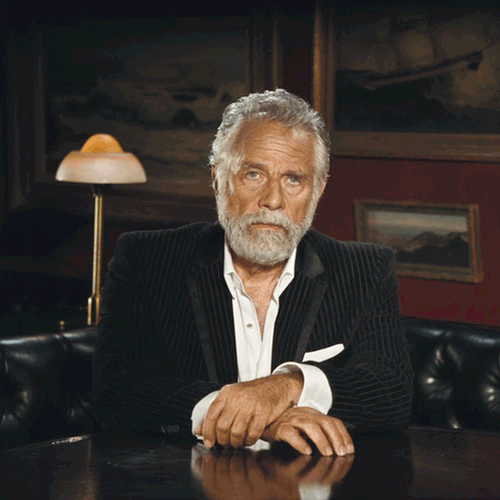 Our mission is to help you be part of the 13% of agents that succeed. 💪
In 2019 you can expect an even more challenging and saturated real estate marketplace. In this competitive landscape, consistent follow up with clients and leads will be key to success.
The problem? Contacting prospects is trickier than ever. Caller ID makes it easy to screen calls for unfamiliar numbers and email open rates are dramatically dipping below 20%. 😱
So where can you go to nurture relationships and follow up with leads?
Where your clients and prospects are already spending the majority of their time, social media.
A simple comment or response on social media can be the difference between making a sale and, well, nothing.
For the first time, you can harness the FULL power of social media and dominate the real estate game. Our Social CRM gives you the leading edge, helping you leverage your social networks to nurture prospects and convert leads.
You can use your user-friendly CRM to pull in leads from social interactions on content posted to your Facebook Business page. Then the platform allows you to manage client information and track the progress of your follow up.
We want to make sure you never miss an opportunity and can follow up every single time. It's time to take your social media marketing to business!
Let's take a look!
To access your Social CRM, log in to your PropertySimple account and go to your "Contacts" tab on the lefthand toolbar.
Here you'll see a list of everyone who's shown interest in and interacted with content on your Facebook Business page.
Next to each prospect you'll also be able to view the last time that person interacted with your content under "Last Seen" and their "Most Recent Interaction" on your posts. The Social CRM will track reactions, comments, and shares on your content from your Facebook Business page.
Tasks make follow up fool-proof.
Real estate relationships and transactions can be long and complex. Agents who are in it for the long haul are the ones who make sales.
Since you already have enough to think about, we created "Tasks" to give you a clear picture of who you need to follow up with.
To view your pending tasks on any particular contact, click the pink "See details" link.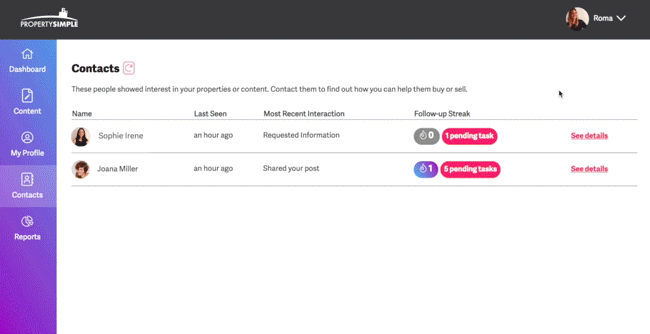 Within each contact, your tasks will be broken down into an activity timeline beginning with that contact's most recent interaction. You'll also see your pending "tasks" or suggestions of how to respond to each type of post engagement.
To complete your task, click the pink link with the suggested response.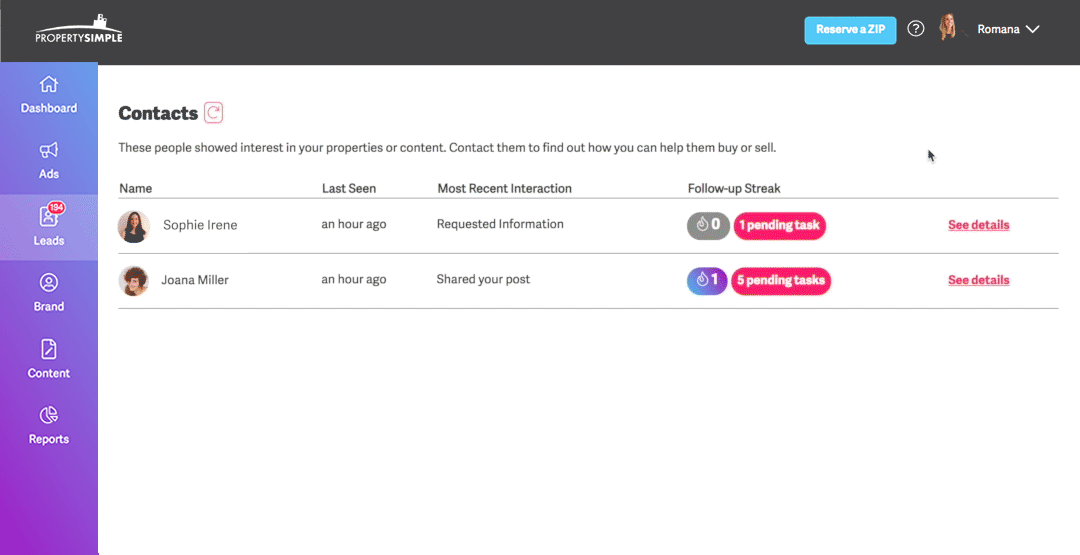 This will prompt a new tab in which you can easily reply to your contact's interaction on Facebook.
Once you reply, your task will be marked with a green checkmark and the activity will also be highlighted green on your timeline.
Just like that, you're one step closer to turning social interactions into leads.
Master the art of persistence.
When it comes to follow-up, the more persistent you are, the better your chances for making points of contact which lead to sales. For this reason, we've built a "Follow-up Streak" feature into our CRM.
Next to each contact you'll find a bubble with your "Follow-up Streak." The number in this bubble will track the total times you've interacted with this contact, so the more tasks you complete, the better your streak will be.
If you see a pink bubble next to your Follow-up Streak, it means there are pending tasks to be completed. If not, you're all caught up with tasks for that contact.
Remember to check in regularly and reply in a timely manner to capitalize on opportunities and form meaningful connections with Facebook users in your network.
Within each contact's details, you'll find two sections: "Contact Info" and "Summary"
The Contact Info section will pull in your contact's name, email, and phone number from Facebook, as long as they're public. You can edit or add information to your contact by tapping the pencil icon next to each field.
The "Summary" section will break down where this specific contact was captured, the total number of times they've interacted with your content, when they first interacted with your content and their last interaction.
We're here to lend a helping hand.
Need some guidance? Click the "?" next to any field for an explanation on how to use each section.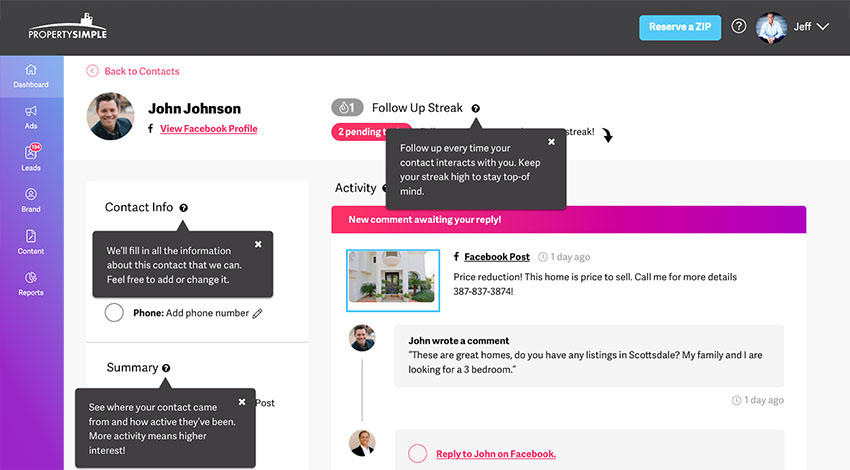 First impressions are important, but in the world of real estate, follow up interactions are EVERYTHING. Each and every engagement on your social media channels is an opportunity.
Use our revolutionary Social CRM to take action and turn opportunities into sales.