Facebook for Real Estate Agents: How to Get More Likes and Engagement
Here at PropertySimple, we see two things again and again:
Agents who recognize the importance of using Facebook to grow their businesses, but struggle to get more likes and engagement.
Agents who simply don't understand how Facebook fits into their marketing strategy and don't see how Facebook likes and engagement generate real ROI for their businesses.
If you fit into one of the above categories, then this post is for you. If you don't, we'd still suggest you read on. You never know, you may pick up a tip or two. 😊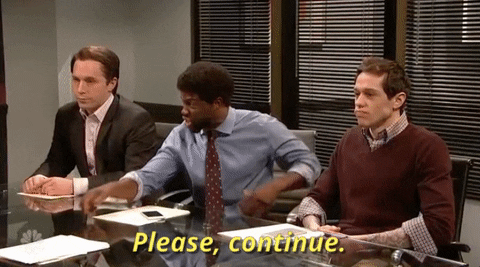 To start, why is it important to get more likes and engagement on your FB Business Page?
To put it simply, more likes lead to more trust and more trust leads to more sales. Social media marketing is all about growing your network and then leveraging your network to grow your business. Coincidently, growing a real estate business also has a lot to do with networking and relationship building, so the two fit together nicely.
When it comes to leveraging your network on Facebook, the largest social media platform with over 1 billion active users, your goal should be to be present, but not to be invasive.
People don't go to Facebook to shop. Facebook users go to the platform to be social.
Facebook's users are looking to catch up with friends and family, escape from their day-to-day lives and browse through interesting content. Social media is a place to connect and interact, and so the more likes, interactions and touch points you have with someone, the more likely they are to become a future customer.
More Facebook likes and engagement means:
More exposure. The more engagement you get, the more Facebook's algorithm will show your content to those who are likely to be interested in you and your business.
Social proof. The more people that like your page, the more legit and impressive your business will look to prospective clients. Consumers look to one another to validate purchase decisions. This means people are more likely to trust you and show interest in your business if others are showing interest as well.
Increased brand awareness. Prospects can't do business with you if they don't know your name. The more users see and engage with your content, the more likely they are to remember your business and turn to you when it matters.
Strategy #1: Give your page a digital makeover.
You wouldn't show up to meet a potential client for the first time with unkempt hair and an old stained t-shirt. As you probably already know, first impressions have the power to make or break your business, and you never get a second chance to make a great first impression.
Well, today most first impressions are made online. That means that before you even have the chance to meet prospects or potential clients in person, they'll probably already have an idea of who you are and what you can do for them.
That's right, 75% of consumers admit to judging a business's credibility based on its online appearance, so before you direct traffic to your Facebook Business Page, you'll want to make sure that it's in top top shape.
That means uploading a personable and professional profile photo, choosing a relevant cover photo, and completing your "About" section with up-to-date contact information, business details and a custom URL.
Check out our in depth, step-by-step guide to giving your online profiles and Facebook Business Page a digital makeover.
Strategy #2: Post high quality, valuable content
Once you've combed through the details of your Facebook Business Page, you'll want to make sure you've got some quality content ready to impress those who visit your page. Sharing high quality, interesting content to Facebook is the best way to position yourself as a Pro real estate agent and look the part of an expert in your area.
If you're not already sharing awesome real estate related content like articles, videos and listings to your Facebook on a regular basis, you should start before attracting any more attention to your page. When you invite someone to like your page or share your page's URL with a potential client, you'll want some interesting or valuable content ready for them to see there, or they'll have no incentive to come back.
On the other hand, if you're consistently sharing tons of value, this will give visitors a reason to like your page and regularly check back for more, as well as help organically grow your Facebook page's likes and increase engagement.
Strategy #3: Leverage your Network
If you're looking to grow your Facebook Business page quickly, the best way to do so is by leveraging the network you already have. Friends, family and past happy clients are your greatest advocates. They're more likely to like your page and show interest in your content than Facebook users you haven't connected with yet.
Not to mention, as you start receiving more likes and engagement on your Page, Facebook's algorithm will start to recognize you as an active user who shares relevant content, and show your content to more people both within and outside of your network.
Here are some ways to do this:
Invite Your Facebook Friends to like your page
Sending your Facebook friends an invite to "like" your business page from right within Facebook itself is an easy way to increase your page's likes, and fast! Simply navigate to your Page and in the right hand toolbar, you'll see a widget labeled "Invite friends to like you Page." Click the button and select the friends you'd like to invite.
We suggest including a personal note along with your invites to increase your chances that friends will like your page. Tell them why they should go ahead and give you a like, for example, what type of content they can expect to see by following. Including a note may also help spark a past client or colleague's memory if you haven't connected in a while.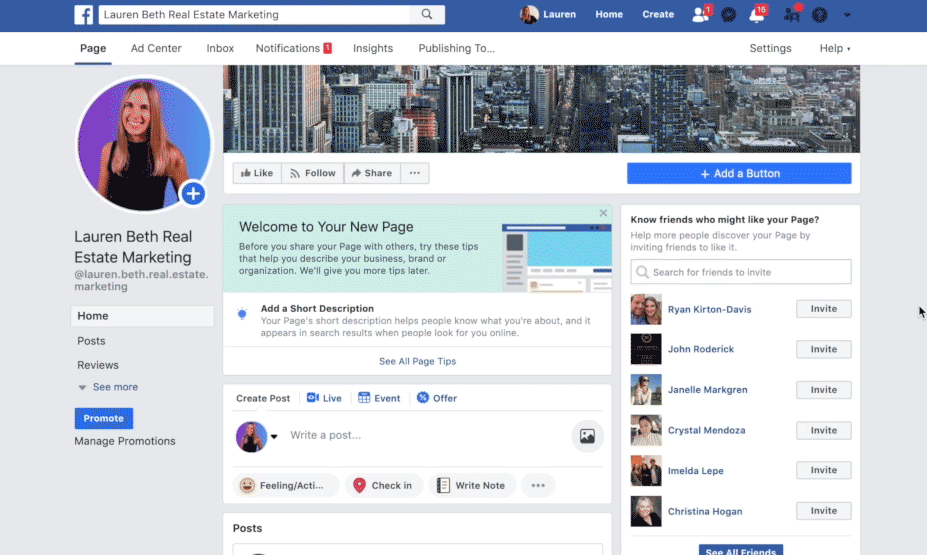 Ask people in your network to share your page or content from your page.
Urge friends, family, colleagues or past clients to spread the word about your business. You can do this by simply reaching out and asking them to share your page or your content, or another great way to do so is by putting actionable CTAs in your Facebook captions.
For example, a CTA in a post with link to an article you've written could read: "Share this article with someone who would find it interesting." A CTA in a post for a listing or open house could say something like: "Know someone in the market for a new home in your area, share this post!"
Put your Facebook Business page's URL in your email signature and add it to your business card
Now that you have a custom URL related to your business (from your FB page digital makeover in tip #1)- your page should be easily recognizable and simple to share. The more places you can advertise your page, the better, so add a link to it within your email signature and show it off on your business card. These two quick fixes are sure to increase the exposure of your page.
Share content back and forth from your business page to your personal page
Another great way to leverage your network is to create a connection between your business page and your personal Facebook profile by sharing content between the two. Due to Facebook's new algorithms, the average reach of business pages on Facebook is WAY less than the potential reach of personal profiles.
You can take it a step further and share content from your page to other places on Facebook as well such as groups, events, a friend's timeline, etc. The more places you share your content, the more eyes will see it meaning increased exposure for your business.
**Note: Keep in mind what type of content you'd like to share and where you're sharing. For example, we wouldn't suggest sharing something directly business related on a friend's Timeline unless it's relevant to something you recently discussed.
Strategy #4- Run a Facebook Like Campaign
If you've already completed the above tips, or are simply looking for a way to quickly reach more people in your area outside of your inner network, running a Facebook Like Campaign is a great tool to add to your strategy. If you don't know already, a Facebook Like Campaign is a paid Facebook advertisement that has a specific goal of increasing the amount of Likes on a given page.
To run a "Like campaign," first navigate to your Facebook Page and click the blue button labeled "Promote" at the bottom of the left side menu. You'll then be prompted to choose how you'd like to promote your business. You're welcome to experiment with the different types of ads, but for the purposes of increasing likes and engagement on your page, you'll want to select the button with the orange flag icon that reads "Promote your page."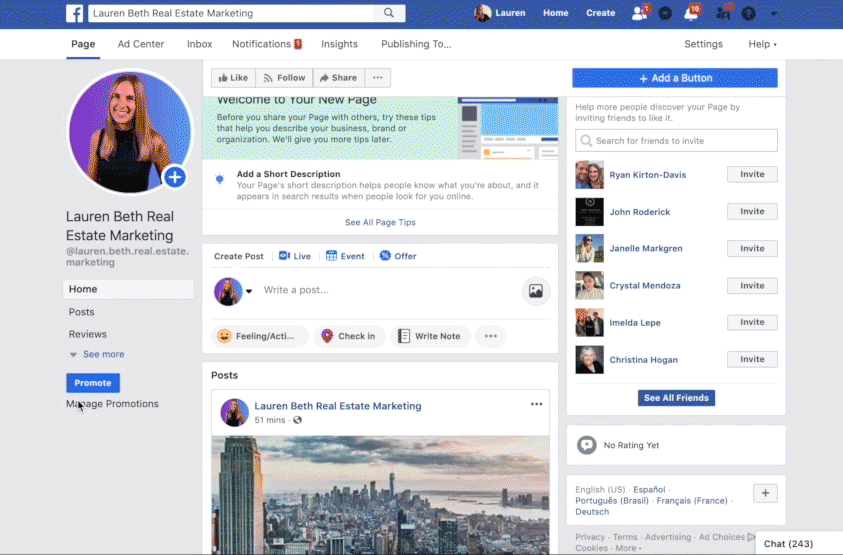 ** Remember, the key to social media marketing is to build and nurture relationships and more likes on your page will lead to more trust for your business.
After you select "Promote your page" you'll be brought to a pop up where you can upload your ad creative (either a single image, video or slideshow), enter the text you'd like to display in your sponsored post, choose your target audience and set a budget.
Tips for running your Like Campaign:
Ad Creative:
As we discussed above, first impressions are EVERYTHING, so choose an attractive image or video for your page promotion that truly shows off your business. Whether that's a high quality photo of you with happy clients, a professional video walk through of a listing or a slideshow of different photos that encompass your brand, you'll want to make sure your chosen imagery is relevant to the audience you'd like to connect with.
**Pro tip: Choose an image that has very little or no text on it, as Facebook penalizes ads that include text overlays on images.
As for the text, tell your audience a little bit more about your page and why they should like it. What sets your business apart and why should they elect to follow along? Do you regularly share recommendations and reviews of restaurants and other small businesses in your area? Do you want to present yourself as a reliable source of information and market knowledge in your city? Be as transparent, concise and direct as possible with your copy to draw in interested likers.
Audience:
FB advertisements are a great tool as they allow you to really narrow down and select a detailed level of targeting. When running a Like Campaign for your page, we suggest first targeting your audience based on location, or the areas where you're selling properties and the zip codes that are known or likely to move to your area. You can also target by things like interests if you have a certain lifestyle in mind.
For example, if you're an agent selling properties in Scottsdale, Arizona, an area known to be a popular golfing destination, you could add an interest for golf to your campaign.
Budget and Duration:
If you're just getting started with Facebook ads, we'd suggest starting small, testing different audiences and creatives and then increasing your budget as you figure out what works for you. Luckily, when it comes to a Facebook Like Campaign you don't have to invest big to get big results. Facebook will even give you an estimate on how many likes you'll receive for the budget you're considering.
Try running your campaign for 14 to 30 days at a budget as low as $1.00 per day and see what kinds of results you get back. Keep in mind that Facebook recommends running ads for a minimum of 3 days. If you're not happy with your results, readjust your target audience and try again. Still room for improvement? Try a new photo, or add a clearer CTA to your copy.
Increasing your Facebook likes and engagement doesn't have to be a daunting or overwhelming task. The 4 simple strategies above should have your network interacting with your content and showing interest in your business in no time!